The corporal works of mercy are based on Jesus' words in the Gospel of Matthew regarding the separation of the sheep and the goats.
The Catholic Church will often speak about practicing the "corporal works of mercy."
What are the corporal works of mercy?
The Catechism of the Catholic Church explains that, "The works of mercy are charitable actions by which we come to the aid of our neighbor in his spiritual and bodily necessities" (CCC 2447).
In particular, the "corporal" (bodily) works of mercy are based on the words of Jesus from the Gospel of Matthew.
He will place the sheep on his right and the goats on his left. Then the king will say to those on his right, "Come, you who are blessed by my Father. Inherit the kingdom prepared for you from the foundation of the world. For I was hungry and you gave me food, I was thirsty and you gave me drink, a stranger and you welcomed me, naked and you clothed me, ill and you cared for me, in prison and you visited me."
Essential these works of mercy are concrete and tangible ways that we can follow the example of Jesus and live out our Christian faith.
The Church lists the corporal works of mercy as follows:
Feeding the hungry
Giving drink to the thirsty
Sheltering the homeless
Clothing the naked
Visiting the sick
Visiting the imprisoned (sometimes listed as "ransoming the captive")
Burying the dead 
Each of these works of mercy can be done in a number of ways and is not a strict definition, but is more broad in scope. For example, you don't have to physically bury the dead to complete this work of mercy. Arranging the funeral of a family member or friend is an example of fulfilling it.
Pope Francis proposed the addition of an eighth corporal work of mercy in his message for the celebration of the World Day of Care for Creation.
As a corporal work of mercy, care for our common home requires "simple daily gestures which break with the logic of violence, exploitation and selfishness" and "makes itself felt in every action that seeks to build a better world" (ibid., 230-31).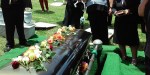 Read more:
Lent is the perfect time for this corporal work of mercy