St. John Paul II wanted to give a strong example to all politicians on how to rule justly from Catholic principles.
The pope rarely makes a special announcement declaring a saint a patron over a particular realm of life. Typically saints become patrons over time and through their intercessory power, not through papal decree.
However, St. John Paul II made an exception with Thomas More, desiring that he be made known for his political life.
In the year 2000, John Paul II wrote a special apostolic letter proclaiming "St. Thomas More, Patron of Statesmen and Politicians." In it, he gave several reasons why he believed Thomas More deserved this special title.
There are many reasons for proclaiming Thomas More Patron of statesmen and people in public life. Among these is the need felt by the world of politics and public administration for credible role models able to indicate the path of truth at a time in history when difficult challenges and crucial responsibilities are increasing.
St. Thomas More is meant to be a role model for all politicians, especially those who profess the Catholic faith. He is a strong example to those who make such important national decisions, especially in the protection of lifeand the family.
Today in fact strongly innovative economic forces are reshaping social structures; on the other hand, scientific achievements in the area of biotechnology underline the need to defend human life at all its different stages, while the promises of a new society — successfully presented to a bewildered public opinion — urgently demand clear political decisions in favor of the family, young people, the elderly and the marginalized.
Furthermore, St. John Paul II urged politicians to recognize More's unity of faith and reason, politics and truth.
This was the height to which he was led by his passion for the truth. What enlightened his conscience was the sense that man cannot be sundered from God, nor politics from morality. As I have already had occasion to say, "man is created by God, and therefore human rights have their origin in God, are based upon the design of creation and form part of the plan of redemption. One might even dare to say that the rights of man are also the rights of God" (Speech, 7 April 1998).
St. Thomas More stands out as a powerful witness to the rights of a person's conscience and ability to follow faithfully their religion.
The life of Saint Thomas More clearly illustrates a fundamental truth of political ethics. The defense of the Church's freedom from unwarranted interference by the State is at the same time a defense, in the name of the primacy of conscience, of the individual's freedom vis-à-vis political power. Here we find the basic principle of every civil order consonant with human nature.
May St. Thomas More be a powerful example and advocate in our own time, and may all politicians look to him for inspiration.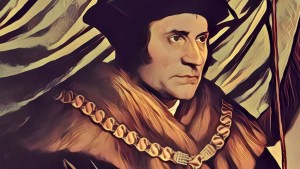 Read more:
St. Thomas More's prayer for our divided times
Read more:
A stepfather, adoptive father, and biological father, Thomas More is a model for all dads