With the right approach, an argument can be constructive to a relationship.
Should we run away from arguments? You know, those spats that ruin family dinners, those little acts of "settling the score" between friends that erode the relationship, those persistent remarks that make life as a couple seem like an endless game of darts — not to mention the quarrels between brothers and sisters that make the whole building shake.
It would seem we should avoid them at all cost, right? The climate of peace is a fundamental human need. But it's neither desirable nor possible to systematically avoid confrontation.
We are simultaneously poor and wonderful human beings. We are gifted with an insatiable intelligence and curiosity, an imagination quick to create good and bad stories, and an unstable will, halfway between a weather vane and a steamroller. Above all, we are saddled with moods, linked to things as variable as the color of the sky or the time of our last meal.
That's how it is. Reasons for getting into an argument will flow through our veins until the return of Christ.
So what's to be done? We shouldn't give up, but learn the art of arguing. This art can make us true peacemakers, to whom the Kingdom of Heaven is justly promised.
Here are three important rules for productive arguments.
1
Don't set the wrong goal
"What matters isn't being right, but searching for the truth." This rule of wisdom, enunciated by the philosopher Jeanne Hersch, must be the goal of every argument.
Let's not try to be right at all costs. That's the best way to get uptight, to utter stupidities that will make us blush after calm is restored, and to put our interlocutor in the same dispositions. It guarantees a deadlock.
Seek the truth! That's why we should eliminate from our vocabulary the words "always" and "never," the affirmation that "I know what you're going to say," and others such as "you won't make me change my mind."
This simple rule give us a constructive attitude of seeking what's best for both people. By contrast, an argument that seeks to make one person a winner and the other a loser will leave two poor, self-satisfied people, a culprit and a victim, alone and exhausted.
The shared desire for truth is already a victory over evil. It gives an external goal to the argument, and it pulls our gaze upwards.
2
Have a sense of timing
A real and good argument must have a beginning and an end. The beginning shouldn't be after 10:00 p.m. for a couple, nor before breakfast, lunch, snack or dinner with anyone in the family. In short, don't announce "we need to talk" to someone who can only think of eating or going to bed.
If the demon of untimely arguing bothers you, keep in mind the advice of St. Paul to the Ephesians (4:26): "Let not the sun set on your wrath."
What effort does this involve? Learn how to end an argument calmly. There is nothing worse than a permanent climate of latent quarreling. It means being able to shake hands, hug, or say, "All right, let's let it be. I love you."
Give a sign that you are moving on. Be the one to give that sign first. Make peace.
3
Choose your allies well
Contrary to what is often practiced, we all know that passers-by are never good allies: those who have the misfortune to be at your table or in the car, and whom we may be tempted to ask to be referees. Let's not make a habit of settling our differences in public. Instead, gather around you all those who have proven to be true peacemakers.
Invoke the Blessed Virgin, and before any clarification, pray to "Mary, Undoer of Knots." If the subject is serious, a novena surely would help.
If the family atmosphere is tense, invoke Sister Léonie Martin, patron saint of difficult children and distraught parents. She never fails to inspire the many parents who go to her grave in Caen to entrust their children to her.
Let's remember that the best way to win peace is not to repress or bury our fighting spirit, but to arm ourselves with good will.
Read more:
How to argue like a Christian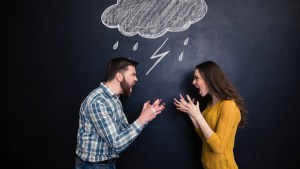 Read more:
Is exhaustion causing you to argue with your spouse? Jesus has some advice for you