A little sweet tale from across the pond to remind us of the good amid COVID chaos.
While babies are adorable, their late-night antics can be pretty exhausting. Recently one Irish couple had to resort to the late-night car drive to soothe their fussy little one. However, with Ireland having strict restrictions in place, its citizens can only travel within a 5-mile radius, and with a valid reason.
Luckily, when the couple came across a Garda (Irish guards) checkpoint, a very sympathetic Garda took pity on the family, as reported in The Irish Post.
"Is the purpose of your trip essential?" he questioned Doug Leddin, from Dublin. The tired dad replied: "Yes, we're trying to stop the baby from crying!" Thankfully the Garda was in complete agreement, replying, "Oh jaysus, nothing more essential, on ya go."
"Is the purpose of your trip essential?" – Yes @GardaTraffic we're trying to stop the baby from crying! 😭 – "oh jaysus nothing more essential on ya go" Irish Guards can be gas 💯 (3.5km from home so don't @ me) pic.twitter.com/1k2bWyi5Zj

— Doug Leddin 🇮🇪 (@dougleddin) January 14, 2021
Other parents certainly appreciated the parents' predicament. One Twitter user commented: "We've all been there and praying for green lights all the way, any stop in movement can result in (tear emojis)" Another user spoke of a similar kindness shown to her by the Irish police: "They stopped me when I was going for a scan & asked did I need an siren escort to the maternity."
While the story is not exactly news-breaking, it does put a smile on our faces — and certainly that of baby Leddin's parents, too! Most importantly it reminds us that these little tales of compassion and understanding go a very long way during the chaos of COVID.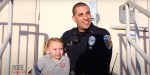 Read more:
Police officer adopts little girl he cared for while on duty