Rapper ShadowCV is giving back to his alma mater, leading the charge against knife-related violence.
A UK rap artist has joined with a group of Catholic students in order to raise awareness of knife-related crimes. To aid in spreading their peaceful message, the team created a music video called "Pray for Peace." The song packages a call to prayer in a memorable musical number.
The students come from the Cardinal Newman School in Coventry, an institution that has served the community since 1969. Adam Hedge, who records under the stage name ShadowCV, attended the school himself as a teen, graduating in 2010. Now the 26-year-old musician has returned to the Coventry Catholic school as a "music mentor."
Hedge gave an interview to Coventry Live in which he explained that he only recently took up the position of music mentor. As a native of Coventry, he noted, he found increasing reports of knife-related crimes particularly troubling. He said:
"Seeing the constant news of knife crime and the tragic events that have occurred in my city through recent years is painful. I knew that I had to use my platform and music to try and make a change, as music had changed my life and helped me get on the right path."
Students wrote their own lyrics
Hedge said he began working with his students one-on-one to ascertain their feelings on growing up in Coventry. The students drew upon their own life experiences to write the lyrics of "Pray for Peace." The resulting work is a rap that "represents the feelings" of Hedge and his students, a sentiment he hopes will "resonate with the whole community."
The song revolves around a piano-driven back track that each member of the group takes turns rapping over. The chorus is the only part that is sung, with the female members taking up the melody. The lyrics praise the value of prayer, encouraging listeners to appeal to the Lord for an end to knife violence. 
Hedge explained that he treated the recording like an educational workshop. He said that none of the students had ever recorded a song before. Their time in the studio was an invaluable experience that may inspire future careers in the recording industry. He said:
"This project was one of the most enjoyable experiences of my life; seeing my students grow in confidence and watching their musical abilities develop throughout the project has been amazing."
Hear more from Hedge and his students in the behind the scenes video featured below.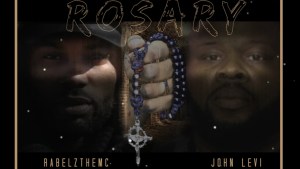 Read more:
The rapper RabelzTheMC is bringing Catholicism to hip-hop