St. Joseph protected Mary and her unborn child, even though Jesus was not his biological son.
Among the many titles of St. Joseph, one that has grown in significance over the past 40 years has been "St. Joseph, patron of the unborn."
The title and patronage is most fitting for St. Joseph, as he was about to "divorce [Mary] quietly" when he learned that "she was found with child … before they lived together" (cf. Matthew 1:18-19).
It took the appearance of an angel to reveal the plan God had for St. Joseph, assuring him to "not be afraid."
St. Joseph then did all he could to protect the unborn child in Mary's womb, as well as protecting Jesus, after he was born, from the murderous threats of Herod.
St. John Paul II emphasized St. Joseph's role in protecting the unborn in a homily he delivered at a Shrine of St. Joseph in Kalisz, Poland.
Joseph of Nazareth, who saved Jesus from the cruelty of Herod, is shown to us in this moment as a great supporter of the cause of the defense of human life, from the first moment of conception to natural death. In this place, therefore, we wish to commend human life to Divine Providence and to Saint Joseph, especially the life of children not yet born, in our homeland and throughout the world. Life has an inviolable value and an unrepeatable dignity, especially because – as we read today in the liturgy – every person is called to share in God's life. Saint John writes: "See what love the Father has given us, that we should be called children of God; and so we are!" (1 Jn 3:1).
St. John Paul II repeatedly emphasized in his homily the duty of every individual to protect life in the womb and to look to St. Joseph for inspiration.
Here in Kalisz, where Saint Joseph, this great defender and careful guardian of Jesus' life, is venerated in a special way, I wish to remind you of the words that Mother Teresa of Calcutta …"the greatest destroyer of peace in the world today is abortion. If a mother can kill her own child, what is there to stop you and me from killing each other? The only one who has the right to take life is the One who has created it. Nobody else has that right: not the mother, not the father, not the doctor; no agency, no conference, no government … It frightens me to think of all the people who kill their conscience so that they can perform an abortion. When we die, we will come face to face with God, the Author of life. Who will give an account to God for the millions and millions of babies who were not allowed to have the chance to live, to love and be loved? … The child is the most beautiful gift of God to a family, to a nation. Let us never refuse this gift of God."
When human life needs to be defended, turn to St. Joseph!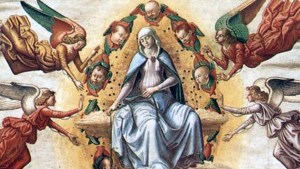 Read more:
This devotion to Our Lady focuses on love for the unborn
Read more:
Pope Francis explains why we must always welcome the unborn