We can be like cork, always lifting up others, or like lead, sinking to the doldrums.
We're well into January, and surely you've thought about your New Year's resolutions already. It's easy to get excited about quitting smoking, joining the club of intermittent fasting, deciding to organize your storage room, or proposing to do 60 squats every 6 hours, when we start the year with energy and enthusiasm.
This year, though, it seems that we've paid a price to deal with this pandemic. I would guess that more than 80% of our energy has gone into it. We expend energy to:
stay calm and not succumb to panic;
get up every day and go to work—in many cases, to a business whose future has become uncertain, because of the pandemic;
control our tears, or quietly release them in the bathroom and come out with a well-placed smile;
get excited about an absolutely uncertain future;
communicate with friends and family who are not nearby using the convenient but unaccustomed means of video chats; etc.
We have invested a lot of energy in surviving this pandemic, but I know where I want to spend the time  I have left.
It has to do with a metaphor I heard from my husband many years ago: I want to be a woman of cork, and not one of lead. I want to be someone who stays afloat and helps others to do so, not someone who sinks to the depths and drags others down too. I want to be one of those people who spread joy, not by looking at reality through a filter of naivety, but by recognizing that reality is full of beautiful things. When someone points those things out to you, it's like when they explain a work of art: They make you rediscover your reality, your life, as if it were brand-new.
I want to be a cork, a cable that pulls up everyone who feels as if they were sinking, a support for everyone looking for someone to lean on. I want to give people moments of joy, conversations, and hugs (when possible). I want to share the kinds of things that help you know you're not alone, and you have someone you can count on.
If there's a "cork person" in your life, I can assure you that your problems will weigh less. Dealing with such people often helps you to find the right perspective to solve a conflict or overcome suffering.
Other characteristics of cork people are that they don't judge, they don't easily take offense, and they always apologize. Psychiatrist Marian Rojas describes these people as "vitamin people" and strongly recommends surrounding yourself with them.
Yes, I am talking about very lofty goals, I know. But when you dream about changing what you give of yourself to the world, you don't depend on anyone or anything. So neither a pandemic nor economic issues deter me from starting out on this journey.
The opposite of "cork people" are "people of lead," who leave us with a feeling of restlessness, irritability and bitterness. They manage to spread their bad mood in a more virulent way than the coronavirus itself.
"Lead people" always see the darkest version of any situation. Usually, they're quick to place themselves in the group of the offended, and carry a ruler in their hand to measure, compare, and immediately complain.
These types of people contribute to sinking all those around them, to varying extents. But there are some things we can do with "lead people." Here are some ways to respond to these "Debbie Downers" in your life.
1
Get to know their stories
Make these people our second objective in this newly unpacked 2021 (right behind being a cork person). We must put on the glasses of charity to try to understand the reason for their attitude.
Nothing arouses compassion more deeply than getting to know a person's history, after having judged them hastily—that history which led them to adopt such an unpleasant attitude in life.
2
Give kindness
Remember that no one, absolutely no one, is immune to love. As St. John of the Cross said, "Put love where there is no love and you will find love."
In short, in order to be a cork person and avoid the temptation of being lead, we have to do one thing: Imitate the ways of Mary of Nazareth.
How would she pronounce those words of encouragement? How would she give the right advice with humility, with love, and without judgment? She, Mary, is the perfect "cork woman," uplifting all of us.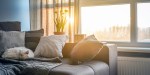 Read more:
7 Tips for creating an uplifting environment for someone who's depressed