Entering genealogical information into a bible links you and your family to the events that happen within its pages.
What can God do in your life with one Bible verse a day?
Subscribe to Aleteia's new service and bring Scripture into your morning:
Just one verse each day.
Click to bring God's word to your inbox
Family bibles are beautiful treasures to have, as they often trace the genealogical history of a family for many generations. It is a great gift to have in the family, but it can also be used to teach us how we"write the next pages" of the Bible.
The Bible itself is not a work of fiction, but a true historical work, even though it is expressed in different genres of writing.
Biblical scholar Jeff Cavins reiterates the fact that this is real history.
It is important for the modern Catholic to understand that, when they read the Bible, they are reading a book of history. History becomes very important to the Christian, for it was within actual human events that God revealed himself. There should be no misunderstanding—this is true history as opposed to cleverly devised tales.
With this in mind, we are reminded that God's work of salvation is not over and that the book of Revelation is not the last page of the Bible. God's work continues through us and the Church, bringing all of humanity to Jesus Christ.
The Church . . . will receive its perfection only in the glory of heaven," at the time of Christ's glorious return. Until that day, "the Church progresses on her pilgrimage amidst this world's persecutions and God's consolations." Here below she knows that she is in exile far from the Lord, and longs for the full coming of the Kingdom, when she will "be united in glory with her king." The Church, and through her the world, will not be perfected in glory without great trials. Only then will "all the just from the time of Adam, 'from Abel, the just one, to the last of the elect,' . . . be gathered together in the universal Church in the Father's presence." (CCC 769)
The Bible is not an old book, but a living Word that continues to remain active in the world.
Christianity is the religion of the "Word" of God, a word which is "not a written and mute word, but the Word is incarnate and living." If the Scriptures are not to remain a dead letter, Christ, the eternal Word of the living God, must, through the Holy Spirit, "open [our] minds to understand the Scriptures." (CCC 108)
By writing our names into a family Bible, we can affirm our connection to the events of salvation history and declare our intention of making the Bible part of our family story.
Jesus' death and resurrection have a real and tangible effect on our lives today and are not simply historical events.
As we look at our own family Bibles the real question to ask is, "When this world is over, what stories will be written about us?"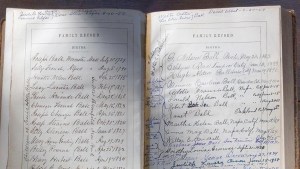 Read more:
What to do when a family doesn't want their family Bible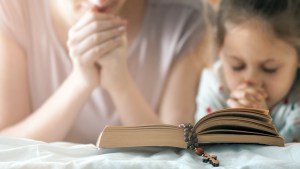 Read more:
Rite of Receiving the Word of God in Family