Voice concern over some countries receiving the vaccine very late, while rich countries have an excess.
There is "too much antagonism and competition" in the production and distribution of COVID-19 vaccines, said Archbishop Vincenzo Paglia, president of the Pontifical Academy for Life, in a statement issued on January 22. In the face of the risk of a "very great injustice" that the current situation poses, the Holy See stressed the urgency of "identifying appropriate systems of transparency and collaboration."
Recalling the pope's message at the Urbi et Orbi blessing on Christmas Day of 2020, Archbishop Paglia stressed the need for states, companies and international organizations to "promote cooperation, not competition" in the fight against the coronavirus. It is a question, he insisted, of creating positive synergy.
According to the Italian prelate, "the industrial production of the vaccine should become a collaborative operation involving governments, pharmaceutical companies and other organizations, so that it can be carried out simultaneously in different parts of the world."
In particular, "universal accessibility" must be guaranteed, he insisted, so as to avoid "some countries receiving vaccines very late" because of the richest countries purchasing excessive quantities of vaccine.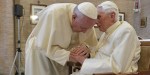 Read more:
Francis and Benedict both receive first dose of Covid vaccine