Let's reclaim Christian hope and perseverance.
If I told you, "Don't worry—I just know everything is going to be okay!" would you believe me? Please don't.
The year 2020 was wild; 2021 promises to be wilder still. Nonetheless we need to step up and do what needs doing. But how? There's a right way and a wrong way to go about it. The wrong way depends on two addictive substances, namely, "Hopium" and "Copium."
HOPIUM
An addiction to false hopes.

The state of

wallowing

in

self-pity

combined with the delusion of potential greatness. Those in this state will hope for others to pity or save them, yet paradoxically

romanticize

their own struggle, pitying themselves and never moving on to achieve their dreams.
Ouch. On this view, Hopium induces us to believe that someone, anyone, will come to our rescue and do all that needs to be done. A consequence of Hopium is the deadly sin of "acedia" or sloth, which is a sorrow and resentment that virtue and achievement are hard-won.
If we become dependent in the long-term on Hopium, it's likely we'll add in regular doses of Copium.
COPIUM
A metaphorical

opiate

inhaled when faced with loss, failure or defeat, especially in sports, politics and other tribal settings.
On this view, Copium includes the processes of making excuses for medicating the disappointments we experience when Hopium does not produce the desired results. Alcoholics Anonymous summarizes the workings of Copium in pithy ways. Here are two hardy perennials: Poor me! Poor me! Pour me another drink!, and, If you had a life (spouse, job, pain, etc.) like mine, you'd drink too!
Both Hopium and Copium are poor substitutes for what we really need these days, namely, Christian hope and perseverance.
Both Hopium and Copium are poor substitutes for what we really need these days, namely, Christian hope and perseverance.
Christian hope might be understood as a confidence that our desire for Heaven may be fulfilled, with God's help of course. Since the world cannot offer or deny us Heaven, all worldly goods are relativized. Disappointments in this life are to be measured in light of the perfect and everlasting good, which is union with God in Heaven. Worldly disappointments are real and painful, but they need not be taken as defeats.
Tolkien writes of the dying words of King Aragorn to Queen Arwen:
In sorrow we must go, but not in despair. Behold! we are not bound for ever to the circles of the world, and beyond them is more than memory.
In other words, hope is confident that what God offers us is more than the world can give us or cost us. Arwen's last words to Aragorn are the calling of the name of his youth, "Estel, Estel!" (Translated from the Elven language: "Hope! Hope!")
The virtue of Christian perseverance is a kind of fortitude that is complemented by constancy. St. Thomas Aquinas tells us that
…the

virtue

of perseverance properly makes

man

persist firmly in

good

, against the difficulty that arises from the very continuance of the act: whereas constancy makes him persist firmly in

good

against difficulties arising from any other external hindrances.
In other words, perseverance helps us to keep our inner commitment to the goal, refusing to the surrender the greater good for the more immediate (and sometimes more attractive) good of the ceasing of the pain that comes from our struggle to achieve the greater good. Constancy is the habit of focusing on the goal rather than the obstacles between you and the goal.
What wisdom do Christian hope and perseverance offer for our troubled times? Let's take some inspiration from the Epistle to the Hebrews 6:17-19.
… when God desired to show even more clearly to the heirs of the promise the unchangeable character of his purpose, he guaranteed it by an oath … in which it is impossible that God would prove false, we who have taken refuge might be strongly encouraged to seize the hope set before us. We have this hope, a sure and steadfast anchor of the soul … 
That "sure and steadfast anchor of the soul," that which will keep us from getting swept away by the storms of this world, is Christ himself. Christians know that they are not orphans but heirs of the Heavenly kingdom; they know that they are joined to Christ who is eager to share his victory with those who will fight by his side to the end; they know that if they do not surrender to the lies of the world, the flesh and the devil, they cannot be defeated.
It is foolish and worse to numb ourselves with Copium while waiting for Hopium to fulfill its promises. Grasping to Christ our hope, we can ask for what we need to persevere. Let's tell the whole world!
When I write next, I'll speak about the Sacrament of Confirmation. Until then, let's keep each other in prayer.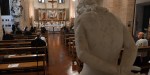 Read more:
Hold to the rope of the anchor, pope urges in visit to cemetery