Shift your attitude about leadership and it can change your life.
Think of the names of some living leaders.
Is your own name on that list?
I guess not. But it should be. Each of us has a leadership opportunity and responsibility, every single day, whether at home or at work. What's more, showing leadership is core to our calling in this world. That will become clear in following paragraphs, as we discard some faulty stereotypes to reach a more authentic understanding of leadership.
We don't typically think of ourselves as leaders. We stereotypically associate "leadership" with hierarchy and fame. You and I aren't leaders; popes, presidents, and chief executives are. To proclaim oneself a leader? That sounds like chest-thumping arrogance, directly contradicting the New Testament's manifold exhortations to humility: "For those who exalt themselves will be humbled," for example, or, "Blessed are the meek," or "Humble yourselves before the Lord," and we could go on.
But a life of leadership is not at all inimical to a Christian worldview; rather, it's core to the Christian calling.
Consider one common dictionary definition: Leadership involves "pointing out a way, direction, or goal," and "influencing others toward it." Well, every one of us is living that definition every day. We're not standing on street corners holding road signs and literally pointing out the way. But we're doing so implicitly. By our behaviors, values, and priorities, we're pointing out a way of living, our vision of how human beings ought to live and treat one another in this world. Many of us are parents, and all of us have parents: Could there be any more obvious example of "pointing the way" and "influencing others" than what parents do for children over a lifetime? Good parenting, then, is good leadership.
Once we embrace this way of thinking, the "leadership light bulb" goes off and transforms our approach to life and work. Leadership becomes today's challenge and my challenge. Remember Martin Luther King, Jr.'s eloquent call to embrace "the fierce urgency of now"? Well, that happens upon accepting one's leadership responsibility: We "embrace the now" by discovering each day's small opportunities to point out a way of living through our example: How am I using my time? How am I treating my children, community members, or work colleagues? How am I using my money?
It's no longer some remote opportunity that may emerge if I someday manage hundreds of subordinates; instead, leadership is about the influence I can have today, whether I'm managing hundreds or indirectly influencing a handful of family members and colleagues. And it's no longer the exclusive domain of high and mighty personages who wrestle with world-shaking issues in the global limelight; it also involves the more humble impact that I can make.
Which leads to a weighty question: "Gee, if leadership is 'pointing out the way,' what 'way' am I actually pointing out through my behaviors, attitudes, and lived values? What leadership statement do I want to make with my life, and am I actually making that statement?"
For Christians, these are deeply significant questions, because we are called to point out the "way" that Jesus preached. Hence, we should model the same values and priorities that he did. Those who are meek, merciful, pure in heart, and who embody the other Beatitude values, for example, are manifesting true Christian-style leadership. So, too, those who clothe the naked, feed the hungry, welcome the stranger, and do all else that Jesus counseled. Those who call themselves Christians, then, bear a specific leadership challenge: not to point out any old way of one's choice, but to point out Jesus' way.
Let's end with the same thought exercise that opened this essay: Please think of the names of a few leaders. This time, I hope you'll think of your own name first. A hurting, confusing world needs smart and dedicated leaders to show the way forward and to influence others positively. Each of us is called to that life of leadership, in small or large ways, in the roles we may have as parent, classmate, work colleague, fellow church member, or neighbor.
If we each step up to embrace our leadership calling, the world will be better off for it. And each of us will be better off, too: we'll find deeper meaning and fulfillment in the  opportunities that life presents every day of our lives.
Follow Chris on Twitter, Facebook, or his website.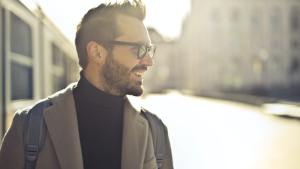 Read more:
10 Inspiring articles to share with men in leadership