Let's build a positive and loving culture in our own homes.
What exactly is family spirit? It's an idea that combines great mutual affection, the joy of being together, and unfailing solidarity.
A successful author on this topic, Janine Boissard, defines it as follows: "To have family spirit is to love being among family members, not in order to shut oneself in, but to gain strength in order to be more open to others."
She thus emphasizes that family cohesion finds its full blossoming, not in withdrawal into oneself, but in openness to others. But it's not always easy to cultivate family spirit within our own homes. Here are a few tips and tricks that can help…
1
Maintain a healthy family atmosphere
Each member of the family contributes to shaping the family spirit, the art of living that makes our closest relatives a priority. If even just one person is not on board, there's no real family cohesion. The difficulty therefore lies in creating unanimous solidarity, beyond the differences between persons and contrasts in character.
Children will naturally contribute to cultivating this family spirit if they feel joy when they stay with their family. This means making sure that they have their proper place, and not stirring up jealousies among siblings.
To do this, Bernadette Lemoine and Diane de Bodman, experts who have published on the topic, urge parents to refrain from comparing children to one another. Parents, they say, should also actively teach their children not to compare themselves to others.
We need to help them understand that everyone has different strengths and weaknesses, and that these differences are complementary. To help them grasp this, we should encourage them to discover each other's positive qualities, and to use their own strengths to help their siblings.
We can also encourage a child to experience the happiness that comes from voluntarily serving others. A good way to help children contribute in their unique way is to undertake family projects with room for initiative by each member of the family.
2
Be attentive to everyone
Being attentive to every member of the family is one of the keys to cultivating the joy and well-being of each member of the household. However, it can be a real challenge. How do you find the time and the energy? How can you manage it with the youngest children, or with less communicative teenagers?
To strengthen the family, some homes hold a "family council" from time to time. This is a meeting during which everyone can share their take on family life in the period since the last meeting, what they want or need for the future, what they propose to do or improve. The advantage to this practice is that everyone, even the most shy, can express themselves while others are required to listen.
Even more concretely, psychologists Adele Faber and Elaine Mazlish invented the "mood box" to help each family member be more attentive and sensitive to the others. The idea is to put colored papers in a box for each member of the family. The family decides on a color code, with the help of a little caption: gray = tired, black = sad, red = angry, yellow = happy … Each day, each family member can put on the box the paper corresponding to his or her mood of the moment. It's a way for them to tell the rest of the family how they feel that day.
3
Working together on a common project
Involving children in a family project is a good way to instill a beautiful family spirit, to share moments of bonding and to create strong and lasting relationships. A common goal, a shared interest, a common passion … These are all opportunities to build a home based on solid affinities.
From a family trip to listening to (or making) music together, to helping the disadvantaged, there are many projects we can take on to get out of our routine and bring together young and old.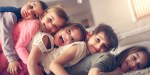 Read more:
5 Spiritual lessons I've learned as the dad of a large family




Read more:
The one question you should ask yourself to create a positive family culture