A look at the Holy Father's ministry to the globe, from shipping masks to China in early 2020 to giving the homeless the vaccine in early 2021.
A year has gone by. It was January 26, 2020, that Pope Francis spoke for the first time about the "virus that has spread in China."
Pope Francis has played a special role of accompanying the planet during the pandemic, comforting, advising, exhorting, setting an example.
On January 26, 2020, the Covid-19 pandemic was only a distant reality. During a prayer intention at the Angelus address, the pope directed his thoughts to the "victims of the virus that has broken out in China." At that time when the crisis was seen to be intensifying in that country, especially around the metropolis of Wuhan, the pontiff praised the efforts of the Chinese community to combat the epidemic. The Holy See collected and sent 700,000 masks to China.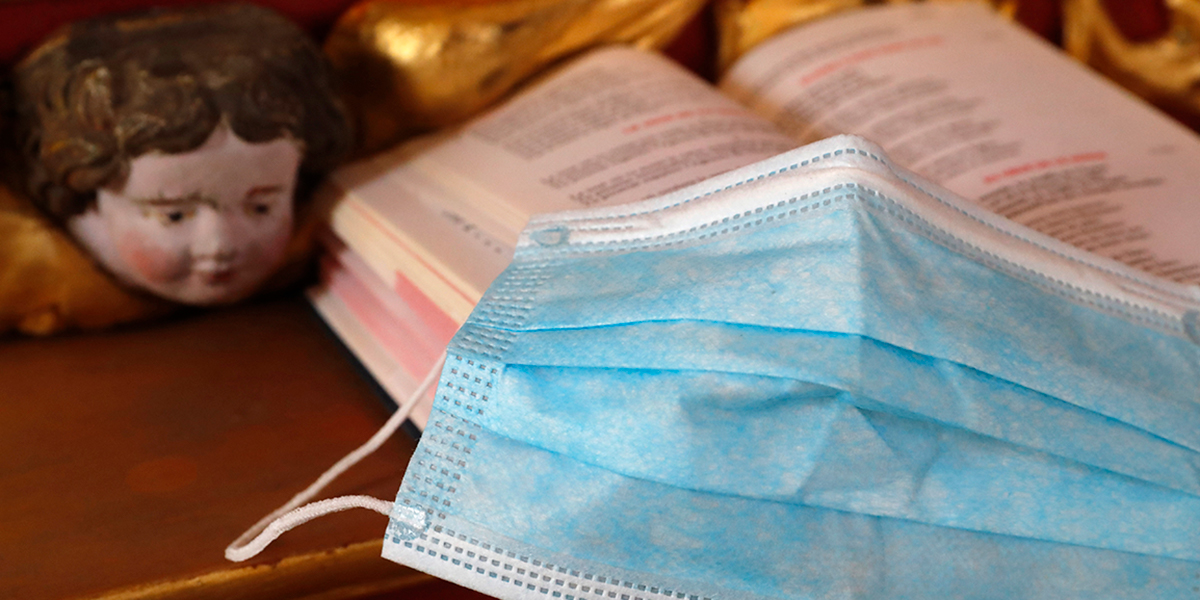 The arrival of the coronavirus in Italy a month later coincided with the beginning of Lent. In Rome, a region then less affected than Lombardy, the first symptom of a crisis of great magnitude was the closure of many churches on Ash Wednesday. On March 6, a first case of coronavirus was detected in the Vatican. A few days later, the Vatican closed its Museums, and then took refuge behind its walls. Italy, like many other countries, discovered confinement.
The pontiff then crossed out all public audiences. As a sign of his closeness to the people, he took an initiative on March 9 that would bring comfort and support to many people around the world: the exceptional transmission of his morning Mass from the Casa Santa Marta. He offered his first Mass, in a brief address at the beginning of the ceremony, "for the patients of this epidemic, for the doctors, nurses, and volunteers who are helping so much." This short introduction to each celebration, which became a ritual throughout that period of the crisis, was an opportunity each day—until May 17 when these daily broadcasts ended—to offer his support and prayers to all members of society affected by the pandemic.
Alone, in St. Peter's Square, in the midst of the storm
From the very beginning of the health crisis, Pope Francis insisted on the importance of seeing as well the dysfunctions of society, exacerbated in many cases by the virus. For example, on March 11, he urged the faithful not to forget all those who suffer the evils of war, as in Syria. This crisis, he stressed, is the right time to understand the value of "closeness." On March 15, following in the footsteps of his predecessors, he entrusted Rome, Italy, and the world to the Virgin "Salus populi Romani" and the miraculous crucifix of San Marcello al Corso, asking for "the end of the pandemic."
March 27 was a high point of the pope's pandemic ministry. Unable to be physically with the people, he found the way to nevertheless give his apostolic blessing. He gave the exception blessing "Urbi et Orbi"—"to the City and the world"—in an almost apocalyptic scene that was to mark minds and hearts all over the world. Alone on the steps of the Square in front of St. Peter's Basilica, under the beating rain, he entrusted humanity in the storm to Christ: "We carried on regardless, thinking we would stay healthy in a world that was sick. Now that we are in a stormy sea, we implore you: 'Wake up, Lord!'"