Bruce Lee was not a Christian, but he's an incredible example of how to evangelize a culture from within it.
"What would you say if I told you that one of the greatest evangelists of the 20th century was not a Christian?"
This provocative idea catches the listener off-guard, and opens a fascinating reflection from Jared Zimmerer, Senior Director of Bishop Robert Barron's Word on Fire Institute. In his OSV Talk, "Bruce Lee was a master evangelist," Zimmerer shares key strategies for effective evangelization, looking to Bruce Lee as an example.
The video is one in a series of OSV Talks, which shine a light on creative means of evangelization, springing from the wisdom and deep prayer that energize these approaches. The talks, which are similar to TED Talks but with a Catholic focus, are free and available for anyone to watch at OSVTalks.com (and on Vimeo and Facebook).
Lee was a pop culture icon, and is widely considered the most influential martial artist of all time. But he was not a Catholic or even a Christian. So why does Zimmerer encourage Christians to learn from Lee's example?
"When I mention Bruce Lee, especially in a Christian or a Catholic context, a lot of times, there's a little bit of this dismissiveness," Zimmerer said in his talk. "They only see the screaming, high-kicking martial artist on the screen."
But it turns out there's a long history among Christian apologists of learning from brilliant thinkers outside of our own tradition. St. Thomas Aquinas learned from Maimonides and Aristotle in his philosophy. St. Augustine referred back to Cicero.
"I think that it's time we go back to the tradition of looking at people who are outside Christianity who are able to reach the modern mind," Zimmerer said.
From this perspective, Lee is exceptional. He radically changed the way Asians were presented in American films and American perceptions of martial arts. "This man was able to instill a foreign culture into the modern west in a way that we are still just scratching the surface of its long-term effects," Zimmerer said.
Zimmerer explained that he and his team at Bishop Barron's Word on Fire Institute operate on eight principles, which articulate the ethos of Bishop Robert Barron and undergird everything the Institute does. Lee exemplifies two in particular: Evangelizing the culture, and leading with beauty.
"When I say that we want to evangelize the culture, we are not speaking of a top-down, forced evangelization," he said. "We want to evangelize the culture from within."
Evangelization will not be effective when Christians approach the secular world with an "us vs. them" mentality. "You cannot evangelize a culture you do not love," Zimmerer emphasized.
"Does that mean you approve carte blanche everything going on in the culture? Of course not," he said. "But if we start from where we disagree, how can we ever come to a place of trust and love?"
Lee excelled at this kind of "evangelizing from within." When he first came into Hollywood, he experienced racism that could have turned him away from continuing in the film industry. Instead, he decided to participate in the culture he loved, and provide something it had never seen before.
At the same time, the world of martial arts was very closed off, Zimmerer said. "Different schools of martial arts were focused on speaking in silos to each other," comparable to Catholic Twitter and other "in groups" within the Church today, he said.
Lee did not let this exclusivity deter him from his mission. "His life's work was to get the life of the martial artist out to the widest range of people possible," Zimmerer said. "He knew that martial arts can make a person's life more fulfilled and he wanted to share that with the world."
Instead of giving up on martial arts because of the "ad intra modality" of the time, Lee "participated within it and breathed new life in both the philosophy of martial arts as well as its practice," Zimmerer said. He founded the "Jeet Kune Do" way, which was the beginning of what we now know as mixed martial arts.
He deeply loved the cultures of Hollywood and martial arts, so he was able to have incredible long-term impact on both.
His success holds many lessons for Christians who want to share the Gospel in today's world. Zimmerer shares several of these lessons in his talk.
"As we continue to lose members of our faith to the lures of secularism, we need to find a renewed desire to evangelize, rooted in the tradition but not beholden to it," Zimmerer said in an interview with Aleteia. He hopes that looking to Bruce Lee and other successful "evangelists" in the secular world can guide Christians in this process.
"I hope that the viewers will understand ways in which we can see the modern culture," he said, "and rather than run from it, find the points of contact where we can agree and come to know and love one another as we seek the truth together."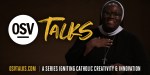 Read more:
OSV Talks: Renewing the Church from the inside out




Read more:
OSV Talks: What if parishioners don't come back?