AFL-CIO president was influenced by Catholic social teaching.
John Sweeney, who led the AFL-CIO for 14 years, and whose efforts on behalf of workers were informed in part by Catholic social teaching, died Monday at his home in Bethesda, Maryland. He was 86. No cause of death was given.
Richard L. Trumka, who succeeded Sweeney as AFL-CIO president, said in a statement that Sweeney "was guided into unionism by his Catholic faith, and not a single day passed by when he didn't put the needs of working people first. 
"John viewed his leadership as a spiritual calling, a divine act of solidarity in a world plagued by distance and division," Trumka said. "The son of Irish immigrants, he used work as a way to directly apply his values, consistently exhibiting grit over flash and pursuing progress instead of posturing."
Born May 5, 1934, John Joseph Sweeney was one of four children of Irish immigrants in a working-class Bronx neighborhood. His father, James, was a bus driver, and his mother, Agnes, a domestic worker. He attended Catholic schools in the Bronx, though the family moved to the New York suburb of Yonkers when he was 10.
"Sweeney was interested in politics from childhood," according to an AFL-CIO statement. "His mother took him to see Franklin Delano Roosevelt's funeral train. He often spoke about his father's loyalty to his union, the Transport Workers Union (TWU), and its colorful president, Mike Quill, with a sense of what it did for his family. Solid meals. A week of vacation. And political rallies with his father."
To pay his tuition at Iona College, a New Rochelle, New York, institution founded by the Irish Christian Brothers, Sweeney held jobs as a grave-digger and building porter. He joined a union, and he graduated from Iona in 1956 with a degree in economics. 
"Sweeney was exposed to Catholic social teaching from an early age, including the Xavier Labor School, whose head was the inspiration for the priest in the film On the Waterfront," the AFL-CIO noted. "He worked throughout his career to forge alliances between Catholic leaders and the labor movement."
Driven by his Catholic faith and commitment to solidarity, Sweeney took a position as a researcher with the International Ladies' Garment Workers' Union, a predecessor to UNITE HERE. It was during this time that Sweeney was connected with the Building Service Employees International Union, known today as the Service Employees International Union or SEIU. Sweeney worked his way up the ranks of Local 32B, winning election as president in 1976. He merged 32B, the union for male janitors, with 32J, the union of female janitors, in 1977, forming the powerful Local 32BJ—which now represents hundreds of thousands of building service workers throughout the East Coast. The men had the job of heavy cleaner and washed and waxed the office building hallways and lobby, while the women were designated light cleaners and dusted the offices and emptied the trash. He often noted that if a glass wall separated an office from a hallway, the men cleaned the outside and the women cleaned the inside. The men were paid more. The merger, led by Sweeney, got them a unified contract. As president of 32BJ, Sweeney led several successful citywide strikes, winning better wages, benefits and other contract improvements. This led to his election as SEIU international president in 1980. 

Sweeney transformed SEIU—dedicating one-third of the union's budget to new worker organizing and doubling its membership over the next decade. He focused on winning new collective bargaining for low-wage workers and was a champion for immigrant rights. He spearheaded the Justice for Janitors campaign of mass civil disobedience in Los Angeles that brought dignity and voice to caretakers and cleaners across the United States and Canada, an effort that set the tone for worker organizing and economic justice for decades to come. He also led high-profile mergers with 1199 and other public employee unions, growing SEIU's size and strength.
According to Catholic News Service, Sweeney was a member of the U.S. bishops' Committee on Domestic Policy throughout the 1990s. In 1993, he was one of eight labor leaders who joined with eight bishops for an ongoing Catholic-labor dialogue, CNS said. 
Taking the side of immigrants
Elected president of the AFL-CIO, a federation of 56 unions, in 1995, Sweeney faced declining union membership and loss of U.S. jobs to globalization. He pushed to open union membership and leadership positions for minorities, women and immigrants and initiated a Union Summer campaign to recruit young people to become organizers. It was at Sweeney's insistence in 2000 that the AFL-CIO, for the first time, supported a path to citizenship for undocumented workers.
In 2009, the year he retired, Sweeney was among those consulted on a document issued by Catholic healthcare leaders, the labor movement and the U.S. bishops' conference. "Respecting the Just Rights of Workers: Guidance and Options for Catholic Health Care and Unions" was a set of principles designed to ensure a fair process as health care workers decide whether to join a union.
The following year, President Barack H. Obama awarded him the Presidential Medal of Freedom, the nation's highest civilian honor. "He revitalized the American labor movement," Obama said at a White House ceremony, "emphasizing union organizing and social justice, and was a powerful advocate for America's workers."
Sweeney wrote a memoir,"Looking Back, Moving Forward: My Life in the American Labor Movement in 2017. He is survived by his wife, Maureen; their children, John and Patricia; and sisters, Cathy Hammill and Peggy King. The family requests contributions be made to the "John J. Sweeney '55, '10H Scholarship Fund" at Iona College.


Read more:
The pope's point man for Catholic social teaching talks about a just economic system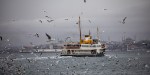 Read more:
The pandemic has stranded 400,000 maritime workers. Who can help them?