Looking to Christ's example of mercy and authentic love can make all the difference.
When we make the decision to share our life with another person, sooner or later we start to discover things that we don't like so much about them. At times, they may seem strange to us or even difficult to understand. Spending more time at home together because of the pandemic can be an opportunity for spouses to "meet each other again for the first time."
After periods of quarantine, confinement, or social isolation, some media outlets have reported an increase in tensions, rivalries and friction in families. Emotions in many households have been intense. Some things that previously might have gone unnoticed have been more clearly on display.
Meeting each other again
What can we do when we notice these traits that we don't find so agreeable? Had they always been there and are now just more noticeable?
In this strange time, there's a great need for us to meet each other again, to rediscover each other, even those who are closest to us. To do it right, there's nothing better than to meet each other in Christ.
We can meet each other again now and invite Christ to be present in our marriage. With his grace and our work, we can make our relationship function, even with the things that bother us. A love like God's will provide the grace for us to grow together, and will bring out the best in both of us.
1
Love, above all things
We can choose to embrace our spouse, with their imperfections, and at the same time let ourselves be embraced with our own. This makes our love like the one Christ shows us. It gives grace, before ever asking us to change.
Christ first and foremost loves us. He shows us an openness of heart that keeps us from becoming defensive or anxious. He embraces our whole story and who we really are.
2
Seek the truth together
It's dangerous to think that our spouse (or anyone else) is perfect. Through the vocation of marriage we pursue holiness, which implies that we are still learning. Mistakes will be made, and there can be painful feelings.
Let's accept each other's real selves by mapping out reasonable expectations. Figuring out how to live with the things that bother us, instead of avoiding them, can help us draw closer to God.
3
Forgive one another
While it's important to note that Christ calls us to change and improve every day, he doesn't do so before we have forgiven. With mercy, we can "feel with one another."
We are able to open our hearts in compassion for each other's faults and frailties. We can seek mutual forgiveness, knowing that we all have our failings.
While it's healthy to want the best for our loved ones in terms of virtue, it's equally important to know how to forgive.
4
Contribute something of your own
Everyone comes to a relationship with a unique history. These differences can become major tensions if we don't know how to deal with them.
A marriage is a new thing we make together, and individuals do not disappear when they are joined. In many ways, spouses' differences complement each other and bring value to the relationship.
The pandemic may have meant a new beginning or a new stage in some aspect of the relationship. It helps to keep in mind that each of us always brings something to the other's life.
5
Ask for grace to deal with differences
With God's grace and our best efforts, we can make a relationship work despite our inevitable differences.
It's possible that not everything that bothers us needs to be changed. Of course it makes sense to change things that are detrimental to the relationship. But other things may be simply a matter of taste or preference.
God's Word and Christ's teachings are the guide for recognizing good or bad habits, talking about change, or invoking the grace to cope with them.
6
Cultivating empathy in relationships
The pandemic is a global phenomenon, but it affects everyone in a unique way. Seeing with the eyes of Christ can help us better understand our spouse and what they may be feeling, without assuming the situation is the same for everyone.
Our loved one may already have a relationship with Christ, but that doesn't mean they're spiritually mature in all the same areas we are. And let's not forget that the same is true for us, too.
7
Pray together for each other
We should do our best to cover everything in a blanket of prayer. Christ can guide, heal and mature our love.
It's important to ask Christ, as He touches the human heart, to help us deal with each other's personal peculiarities. Instead of trying to quickly remove them, it is good to surrender them to Him.
Prayer itself is an act of love that we do for one another. When we don't know what else to do, we always have the opportunity to pray.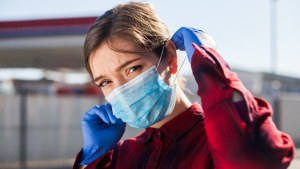 Read more:
The hidden spiritual and social opportunities during the pandemic
Read more:
The effortless, free activity that can strengthen your marriage