From the Paris music scene, he found the nascent Society of Vincent de Paul.
Santiago Masarnau y Fernandez was born in Madrid on December 10, 1805. His father, also named Santiago, was a native of Cantabria in northern Spain. His mom, Beatriz Fernandez, was from a family closely tied to the Spanish aristocracy. She passed on in 1808, leaving her 3-year-old son without a mom. Shortly after, Masarnau senior was named Secretary of the Royal Association of Nobility of Cordoba. His new position required him and his three children to move to Andalusia (the southern part of the Spanish peninsula). 
The boy was a musical prodigy
Masarnau proved to be a musical prodigy when only a young boy. It was not long before he began studying music under the organist of the Cathedral of Granada. King Ferdinand VII had been deposed from the throne in 1808, but in 1814 he managed to regain power. Masarnau's dad was appointed to a position and the family moved back to Madrid.
Once back near Madrid, Masarnau became part of the Escorial musical world (the Royal Palace outside Madrid). He was so good at playing the organ he was allowed to perform before King Ferdinand, even playing some of his own compositions. The boy was only 10 years old. But sometime during the early 1820s, Masarnau's dad was forced to resign his privileges as a Gentleman of the Royal Household. 
Masarnau had planned to study to be an engineer. But after his father was dismissed from the King's court, he changed his mind and headed to Paris to study music. For the next 20 years, Masarnau divided his time among the cities of Paris, London, and Madrid. He developed a close friendship with the Spanish composer Jose Melchior Gomis. 
Gomis composed the Himno de Riego, still used as the anthem by various governments in Spain. Gomis was also a Spanish rebel living in exile because he had sided with those who wished to depose King Ferdinand. Masarnau was sympathetic to those opposing the King and spent much of his time in London, where Gomis introduced him to the London music world.
He had a religious awakening
In 1838, Masarnau had a religious awakening that would transform his life. He came into contact with the Society of St. Vincent de Paul at a parish in Paris. The Society had been founded in Paris in 1833 by Frederick Ozanam, a 20-year-old student who had been confronted by other students to "practice what you preach." Frederick immediately went outside and gave away his coat to a homeless man, and that was the beginning of the St. Vincent de Paul Society. By 1838 the Society had grown, and when Masarnau discovered it, he decided that from then on, he would devote his life to the poor. 
The rules that were in place for the Society impressed Masarnau. They were quite simple; "no politics or personal concerns would be discussed; the work of the Society should be in the service of God in the persons of the poor; there would be no distinction of creed, race, or of the poor, the infirm, and/or the unemployed. "
Masarnau became active in the Society and soon became the treasurer of his St. Vincent de Paul Conference. He would remain in France for almost five years, helping the needy. He refrained from composing any more salon music and directed his composing to sacred music. He returned to Spain in 1843. 
Read more:
For people who can't afford prescriptions, St. Vincent de Paul provides a lifeline
He never lost sight of primarily serving the poor
Once back home, Masarnau remained active in the music business, teaching, composing, and writing articles for music publications. But he never lost sight of his primary focus: serving the poor through the St. Vincent de Paul Society. However, there was a challenge: the Society was unknown in Spain, and people were skeptical of a "foreign" organization and its "secular" nature. 
But Masarnau refused to give up. His dedication to the needy and his devotion to his ministry paid off. In 1850 the Society in Spain, with the support of Pope Gregory XVI, was established. Santiago Masarnau y Fernandez was recognized as its founder. Coincidentally, this was the same year the St. Vincent de Paul Society began operations in the United States.
Politics reared its ugly head, and in 1868 the Spanish government forcibly dissolved the Society, seizing all its property. However, six years later, the Society in Spain was allowed to resume its work with the poor and marginalized. Masarnau returned as its leader. He passed away in 1882 at the age of 77.
On January 21, 2021, Pope Francis approved the decree that recognized Masarnau a man of "heroic virtue." He is now recognized as Venerable Santiago Masarnau y Fernandez, and his cause for beatification will move forward.
Venerable Santiago, please pray for us.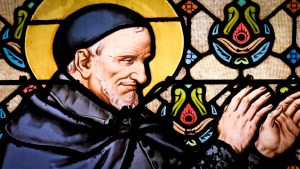 Read more:
4 Things you might not know about Vincent de Paul