The world pandemic delayed the event by a year, but Portugal's youth are already excited for 2023.
Although World Youth Day 2022 was delayed by a year, Portugal's Catholic youth are already preparing. Now, a nationwide competition for Catholic songwriters has yielded the theme song of World Youth Day 2023. Titled "Há Pressa no Ar," or in English "There's a rush in the air," the tune features two versions. One is in Portuguese, the other is an international version, which includes lyrics in five languages.
The piece reflects the theme of WYD 2023: "Mary arose and went with haste." The theme was sourced from Luke 1:39, when Mary rushed to the side of her cousin Elizabeth, who was pregnant with John the Baptist.Vatican News reports that young people around the world are encouraged to "identify with Our Lady" when singing the song.
Lyrics from a priest
This expertly crafted pop song was composed by Pedro Ferreira, a school teacher from the diocese of Coimbra. He was joined by Father João Paulo Vaz, a musician priest, who wrote the text to fit the melody. Fr. Vaz noted that he took special care to write the lyrics with the melody in mind, and it shows. The song is a real earworm and is bound to linger in the mind.
In a report from CNA, Father Vaz said that he found a deeper connection to the Blessed Mother through writing this song. He said:
"The theme of the Portuguese edition [of World Youth Day] made me revise my relationship with the Blessed Mother and, then, the lyrics creative process became, for me, a very deep time of praying,"
Originally slated for 2022, the Vatican announced in April 2020 that WYD Lisbon would be postponed until 2023. In the meantime, event organizers are doing their best to keep Catholic youth engaged during the extra year. CNA notes that WYD organizers have encouraged them to find alternative ways to take part in the mission. These include calling someone who lives alone, contacting distant family members, volunteering with local charities, or undertaking acts of service in their parishes.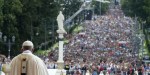 Read more:
WYD'23 official prayer published