The Jordan Immersive Experience offers tours through Bethany Beyond Jordan, Petra, and a whole lot more.
After clearing up a discrepancy over the location of Jesus' baptism site, Jordan has made it more accessible than ever. The site, dubbed "Bethany Beyond Jordan," was added to the Jordan Immersive Experience, a VR program that allows users to explore various Jordanian religious sites online. Now, the UNESCO World Heritage Site that is agreed to be the site of Jesus' baptism by John is just a click away.
Jordan's tourism industry is still reeling from the loss of a year's worth of pilgrims. More than this, however, they lament that so many of the faithful have missed experiencing their many biblical sites. To rectify these less than ideal circumstances, they have launched an extensive list of virtual tours.
The Jordan Immersive Experience (JIE) includes some of the nation's most renowned biblical locations. The program features full rotation images of the sites, as well as brief explanations from the Jordan Tourism Board's knowledgeable guides. We found this to be one of the most impressive features of the JIE. In real time, users walk alongside the guides as though they were on an live tour.
The locations offered by the JIE include some of their most visited sites. Petra alone has no less than 18 spots for panoramic viewing. Each spot provides visitors with trivia and historical context to explain what they see. Other sites available to tour include the Dead Sea, the Immaculate Heart of Mary Parish, Al Shobak Castle, and a wide array of Jordanian museums.
"Bethany Beyond Jordan"
Now, The Jordan Tourism Board has added "Bethany Beyond Jordan," the baptism Site. The 16 stops of this tour take users to John the Baptist's Spring, the Baptism Pool, and even the surrounding churches. Each stop on this tour helps to connect the faithful with the rich history of Jordan's beautiful landscape.
Of the site, the Jordan Tourism Board wrote:
The area is where John was living when he baptized Jesus. Designated as a UNESCO World Heritage site, the Baptism Site commission welcomes pilgrims from all around the world seeking spiritual connection to biblical times, a glimpse of history or a chance to be baptized where Jesus was so many years ago.
The Jordan Immersive Experience can be downloaded for free as an app for Android or IOS. For those who cannot use a VR headset, the tours can be taken through your internet browser here.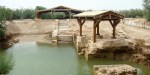 Read more:
Jesus' baptism site in Jordan, not Israel, Catholic archbishop clarifies