She experienced great darkness, but was able to keep the hope of Christ alive in her heart.
This Lent, please consider making a donation to Aleteia.
Donate here
St. Josephine Bakhita, an African slave during the 19th century, experienced first-hand the horrors of humanity. She was kidnapped at a young age and beaten until she bled.
She had a difficult life, but later, when she encountered Christianity, she was able to have a profound sense of hope that overcame any suffering she experienced.
Pope Benedict XVI highlighted her example in his encyclical on hope, Spe salvi, and narrated how she was introduced to the hope found in Jesus.
Here, after the terrifying "masters" who had owned her up to that point, Bakhita came to know a totally different kind of "master"—in Venetian dialect, which she was now learning, she used the name "paron" for the living God, the God of Jesus Christ. Up to that time she had known only masters who despised and maltreated her, or at best considered her a useful slave. Now, however, she heard that there is a "paron" above all masters, the Lord of all lords, and that this Lord is good, goodness in person. She came to know that this Lord even knew her, that he had created her—that he actually loved her. She too was loved, and by none other than the supreme "Paron," before whom all other masters are themselves no more than lowly servants. She was known and loved and she was awaited. What is more, this master had himself accepted the destiny of being flogged and now he was waiting for her "at the Father's right hand".
It was this love from God that gave her a newfound purpose in life and a hope that nothing could touch.
Now she had "hope" —no longer simply the modest hope of finding masters who would be less cruel, but the great hope: "I am definitively loved and whatever happens to me—I am awaited by this Love. And so my life is good." Through the knowledge of this hope she was "redeemed,",no longer a slave, but a free child of God. She understood what Paul meant when he reminded the Ephesians that previously they were without hope and without God in the world—without hope because without God. Hence, when she was about to be taken back to Sudan, Bakhita refused; she did not wish to be separated again from her "Paron."
Her newfound hope in God fueled every part of her being and she spread that hope to everyone she met.
[S]he made several journeys round Italy in order to promote the missions: the liberation that she had received through her encounter with the God of Jesus Christ, she felt she had to extend, it had to be handed on to others, to the greatest possible number of people. The hope born in her which had "redeemed" her she could not keep to herself; this hope had to reach many, to reach everybody.
When life gets difficult, look at the life of St. Josephine Bakhita and ask her to instill in you a supernatural hope that can endure any trial.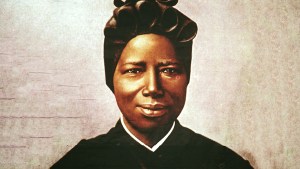 Read more:
St. Josephine Bakhita and the power of diversity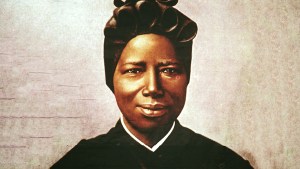 Read more:
Prayer to St. Josephine Bakhita for the healing of victims of modern-day slavery