His "Clinic for Souls" was designed to treat ailments of both body and soul.
While Padre Pio is widely known for his mystical life, one of the projects he was most invested in was building a hospital. He built Casa Sollievo della Sofferenza (Home for Relief of Suffering) in 1956 for a variety of reasons.
One of the main reasons was to address the connection between the physical and spiritual.
This is explained by Padre Pio as quoted in the biography Padre Pio: The True Story, published by Our Sunday Visitor.
Padre Pio emphasized that the hospital was created not only for the relief of sick bodies but for the benefit of the whole person. "The suffering patient," he insisted, "must have in himself the love of God by a wise acceptance of his pains and a serene meditation on his destiny before God. Here the love of God must be strengthened in the spirit of every patient through his love of Jesus Crucified. Here patients, physicians, and priests shall be reservoirs of love which will communicate itself to others in proportion to the extent that it is found in them." He sometimes referred to the Casa as a "Clinic for Souls," contending that "the goal of the Work is … to care for the bodies to [assist] the souls."
Padre Pio had a great appreciation for suffering and saw it as an instrument to drawing close to God. However, he also realized that many people need physical relief from that suffering in order to help them recognize God's love in their lives.
The hospital was also seen by Padre Pio as a work of God, not something that he was trying to do for his own benefit.
Padre Pio announced plans for a medical and religious center that included nursing homes for both men and women, "where tired and exhausted bodies and souls can be with the Lord and obtain succor from him" and an "intercontinental study center" to "stimulate medical people to perfection in their professional culture and Christian studies." Padre Pio also wanted a center for the Prayer Groups and retreats for priests and also for laity, where "men and women will … be able to care for their spiritual development and their ascent to God."…"These are not simply my works," Padre Pio declared, "They are God's works, just as he shows me."
Casa Sollievo della Sofferenzastill exists today and is one of Europe's leading medical centers.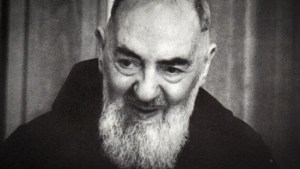 Read more:
Padre Pio's powerful words of advice when a pandemic hit Italy
Read more:
Couple praises Padre Pio's recipe for a happy marriage