Early and well-known commitment to in-person instruction helped avoid loss suffered nationally.
While Catholic schools nationally have suffered drastic losses during the coronavirus pandemic, Catholic schools in the Archdiocese of Boston have benefited.
This week, a National Catholic Education Association report said that COVID-19 has led to a 6.4% drop in school enrollment over the past year. In the Archdiocese of Boston the initial drop was far worse: a 17.6% decline in enrollment. 
But then enrollment went up by about 4,000 students, mostly the children of parents who were dissatisfied by Boston Public Schools' decision to conduct education entirely online. 
"Public school parents fled to us to avoid remote," Thomas W. Carroll, superintendent for Boston Catholic Schools, tweeted Tuesday. 
"We are still down year over year, but by less than the national drop and dramatically less than our initial drop," Carroll said. 
He explained that about 80% of the 1,648 students who left Boston Catholic schools was from "parents who were working remote because of COVID and chose to keep their preschool children home. Our initial decline was 5,722 students prior to public schools announcing they were going remote." 
He expects that those preschool students will come back when their parents return to working in an office and/or life gets back to normal. 
Carroll said he believes that Boston didn't get hit as hard as other parts of the U.S. Church because "we committed early and loudly to in-person instruction, and we invested heavily in technology so that we could continue to educate those who had to stay at home." 
Said Carroll, "The dedication of our heroic teachers, leaders and support staff made an indelible impression on parents. It was clear that we believed every child was created in the image and likeness of God and acted accordingly."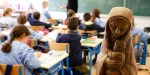 Read more:
Catholic school enrollment has declined as a result of pandemic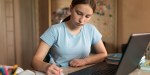 Read more:
How online education could spark real intellectual growth