Some Michigan residents are prepared to face extreme temperatures to go to Mass at the temporary Our Lady of Snows.
Over the past six years, students at Michigan Technological University and the local community have come together to build Our Lady of Snows: a temporary ice chapel constructed for the town's Winter Carnival. This year, however, the chapel seems needed more than ever, as it has allowed the faithful to gather and attend Mass in compliance with COVID restrictions.
Wrapped up in winter woollies, members of the St. Albert the Great community are able to take part in a slightly chilly Mass with the priest wearing a lot more than his usual vestments! While the images show how cold the venue must be, there's a glow that radiates around the chapel. The candles, the altar, and seeing all that is part of the Mass brings a certain warmth to the heart.
The Masses were live-streamed for those who couldn't attend, so they could participate from the warmth of their homes. But for those who braved the freezing weather conditions, the parish did offer hot cocoa after the service.
If you'd like to take a look at a recorded live-stream service you can visit the chapel's Facebook page for more details.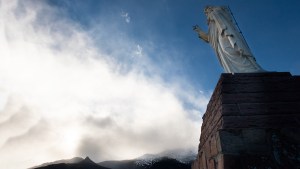 Read more:
Exclusive photos: Colorado's inspiring "Chapel on the Rock"