Not only the devil, but also the path to sainthood, is in the details
What can God do in your life with one Bible verse a day?
Subscribe to Aleteia's new service and bring Scripture into your morning:
Just one verse each day.
Click to bring God's word to your inbox
You've no doubt heard the cliche, "Don't sweat the small stuff."
Well, Pope Francis has taught me that the opposite applies when it comes to leading a holy life: do sweat the small stuff! Because your path to holiness will run from one small detail to another. And, if you attend to the small stuff, the really ambitious stuff—like becoming a saint—will take care of itself. Don't take that from me; take it from Pope Francis.
Francis' emphasis on minding the details of holiness reminded me of a conversation with a one-time colleague who was an acclaimed investment banker in big corporate mergers. I once asked about his success secrets, and his answer puzzled me: "You know, the most important thing is being well-organized, better organized than everyone else. So, I always start by collating all the relevant documents to be able to find them quickly and easily."
That's it!? I could become a renowned banker with only a three-ring binder and some Post-it notes? Well, of course there's lots more to it, but he was underscoring the importance of conscientious attention to details.
Francis makes the same point in his Exhortation, Rejoice and Be Glad: "Let us not forget that Jesus asked his disciples to pay attention to details …The little detail that one sheep was missing …The little detail of having spare oil for the lamps, should the bridegroom delay …The little detail of having a fire burning and a fish cooking as he waited for the disciples at daybreak."
What details might pave your or my path to holiness? Maybe, for example, the detail of noticing the elderly woman who always sits alone and unspoken-to in church, or the street person who has shoes but no socks, or that your spouse came home discouraged today, or that you've skipped your five minutes of private morning prayer two days in a row. So, sweat the details.
Francis praises parents who raise children with "immense love" and who work hard to support their families, and he concludes, "Very often it is a holiness found in our next-door neighbors, those who, living in our midst, reflect God's presence. He calls such folks: "the saints next door."
Isn't that a goal worth living for? To become the saint next door? For most of us, holiness will not involve extraordinary feats, but ordinary moments lived with extraordinary love and concern. It's not about waiting for golden opportunities to come our way, but about finding spiritual gold in every day's very ordinary opportunities.
Because this path is accessible and within reach for all of us, Francis calls it the "middle class" of holiness. Few of us may be called to martyrdom, for example, just as few of us become super-rich. But most of us can at least aspire to reach the middle class: By analogy, we can all follow the "middle class" path to attaining holiness. Anyone can notice and seize those small chances that God places before us daily.
And there's nothing inferior or second-rate about this "middle class" route to holiness, because we never know what our small everyday opportunities will ultimately add up to.
Think of it this way: Every saint had parents, friends, teachers, mentors, and others who nurtured them. We may not see the world changing through our quiet, everyday loving support of others, but, as St. Teresa Benedicta of the Cross put it, "Certainly the most decisive turning points in world history are substantially co-determined by souls whom no history book ever mentions."
Pay attention to the details. You never know when your ordinary-seeming opportunities for holiness will be yielding some extraordinary impact or gradually transforming you into the saint next door.
[Adapted from a prayer resource created for RENEW International]
Follow Chris on Twitter, Facebook, or his website.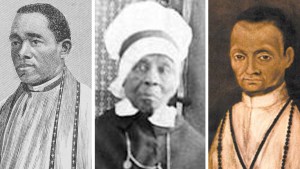 Read more:
Black saints who were "firsts"