As the Year of the Ox begins, the pope calls for care for the poorest and weakest.
Pope Francis extended his greetings and best wishes for the Lunar New Year, which is marked this Friday.
It is the end of the Year of the Rat and the beginning of the Year of the Ox.
The pope said:
In the Far East and in various other parts of the world, millions of men and women will celebrate the Lunar New Year this coming Friday, February 12. To all of them and to their families, I wish to express my heartfelt greetings, together with the wish that the new year might bear the fruit of fraternity and solidarity. At this particular time, in which we are very concerned about facing the challenges of the pandemic that touches people physically and spiritually, but also influences social relationships, I express the hope that everyone might enjoy complete health and serenity of life. Lastly, while I invite that we pray for the gift of peace and every other good, I would like to remind everyone that these are obtained through goodness, respect, far-sightedness and courage. Never forget to give preference to caring for the poorest and the weakest.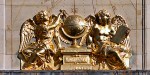 Read more:
This French priest was the first to figure out our planet's size