The bishops' bet mirrored a wager between two Catholic schools within their dioceses.
A radio show conversation between the bishops whose dioceses include Kansas City and Tampa Bay led to a friendly Super Bowl wager. Now that the Buccaneers have come out on top, Bishop James V. Johnston Jr. of the Kansas City-St. Joseph diocese owes his Floridian counterpart some barbecue. 
The wager came up naturally during a segment of Cardinal Timothy Dolan's weekly podcast "Conversation with Cardinal Dolan" on Sirius XM's The Catholic Channel. Bishop Johnston and Bishop Gregory L. Parkes of St. Petersburg came up with the idea on the spot. Crux Now reports that Bishop Parkes put hand-rolled cigars on the line (a nod to the Cuban culture in Florida), while Bishop Johnston wagered some Kansas City BBQ.
A schoolyard bet
A similar wager between two Catholic schools in Missouri and Florida was the inspiration for the prelates' bet. St. Elizabeth's in Kansas City and St. Paul's in St. Petersburg had each taken on the challenge of a Super Bowl Food Drive, and they got competitive. It was decided that the school from the losing team's state would send their competitors some local food. St. Paul's reportedly put up some of Florida's famous oranges, while St. Elizabeth's wagered more Kansas City BBQ.
Cardinal Dolan noted that this friendly wager between peers was an excellent example of sportsmanship, as well as a clever diversion from the woes of the last year. The two bishops agreed with Cardinal Dolan that the contest was a prime way to bring people of different communities together. Bishop Parkes commented:
it can be "a great diversion from the things that are going on around us," adding that "even in the midst of COVID, we're going to have a Super Bowl this year."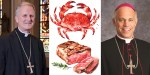 Read more:
Steaks and crab: Bishops make bet on Super Bowl LIV