A pandemic visit to the Sistine Chapel and the home of the popes' great art collections leaves one somewhere between sadness and wonder.
Have you ever visited the Sistine Chapel in complete silence? This is the unique experience that a handful of lucky visitors had this February 1, 2021, the day of the reopening of the Vatican Museums. Fewer than 400 people contemplated in privacy the millions of works of art that the popes' museums contain.
In front of the frescoes in the Room of Constantine – one of Raphael's four rooms – Marina lets out a sigh of wonder. For this teacher and tourist guide, a connoisseur of museums, this situation is exceptional to say the least. "It looks like we are in a parallel universe, another world. It's very beautiful to admire frescoes without anyone," she whispers. "In the Gallery of Geographical Maps, I was able to stop to read the descriptions and remember my Latin. It's a dream, something unreal."
On this first day of the reopening of the Vatican Museums, you have to venture among the many galleries to see a few tourists, fewer in number than the guards. The several hundred people who came for this reopening — many of them preferring to come in the morning — were a very small crowd compared to the usual attendance (23,000 people per day in 2019), but an encouraging sign to some employees, relieved to see visitors return after these long weeks of closure.
"We thought that there would be very few people and in reality there was a good influx," says Claudio, who is in charge of supplying the coffee machines throughout the complex. The continuing ban on tourist travel to Italy and the fact that this was a work day for many Romans kept the numbers low, but promising.
"People will come back," says an employee in charge of distributing the audio guides. Many are not aware of this opening or are still afraid." In front of the Vatican Library, a saleswoman is delighted with the first sales she was able to make this morning.
Among those who took advantage of this unique opportunity are many tour guides who have been out of work for a year now. With a selfie stick, Harvey enjoys filming details of ancient works. "As a guide, we live for culture and the museums have been closed for months. It's sad for us. I came here from the first day of the reopening because I feel right at home there. I come to see all my favorite places, to soak up them. Tomorrow I'm going to the Forum and the Colosseum. The tourists will come back later … "
Valentina, owner of a travel agency, has not been able to work for over a year either. She is also trying to take advantage of the good side of this situation. "As we have time, we came today to see the works of art and this visit gives me a unique emotion," she says. "I think this is an opportunity that will probably never happen again in my life."
Knowing that she was lucky, her friend nevertheless expressed her discomfort in the face of this situation. "I find it sad that there is no one there, I hope all these works can be admired again." This feeling was shared by a couple of Romans who were free for the day and took the opportunity to do some sightseeing — a way, according to them, to help the economy of their country.
This day was also a real boon for the many students who were often stuck behind their screens because they could not attend classes. Chiara and Sephano decided to celebrate the end of their law exams by immersing themselves in the heart of the wonders of the Vatican. It's a moment they will never forget. "All the works of art seem to be here only for us!" they rejoice.
But the highlight of the show is undoubtedly the visit of the Sistine Chapel, in the most complete calm. No noisy tour guides or problems getting around. Everyone can freely commune with Michelangelo and Botticelli and — the height of luxury — sit down and look up to admire the ceiling. Even the keepers of this highly prized venue admit, "This is a unique opportunity."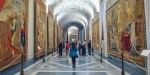 Read more:
Vatican Museums reopen again as Italy loosens pandemic restrictions