How long a person lives doesn't measure their value, as one precious little boy shows.
Italian news outlet Il Sussidiario recently reported the sad—yet extraordinary and moving—testimony of a grandfather about his grandson who died just half an hour after birth. The boy died from a congenital malformation that had been diagnosed early in the pregnancy as incompatible with life outside the womb.
It's a moving reflection on the value of life. Life is precious, even when it's so fragile as to appear to the world to be unworthy of affirmation and "superfluous."
The grandfather's testimony
An ultrasound scan performed in the third month of pregnancy detected that the unborn child was suffering from a fatal congenital condition at an early stage. The parents, family members, and close friends were forced to face the fact that the pregnancy could only end in the baby's death.
The family called their unborn baby Luigi. The grandfather tells how he felt a dull pain, that grew stronger as time passed and the pregnancy progressed, at the thought of the suffering of his son (the child's father) and the mother, as well as of Luigi's four siblings.
At the same time, he started to recognize that the pregnancy was leading to something unexpected. Their prayers were being heard, and a transformation was taking place, although it was not the healing many had hoped for.
Before his eyes, thanks to Luigi's illness, a transformation was taking place in Luigi's dad Giacomo and in his mother Maddalena, as well as in their children. The grandfather writes,
In these weeks, I recognized in my son and his wife a living and lived faith worth watching: the certainty that their Luigi's life … has meaning and a fulfilled destiny … Learning from your own children is a noble thing to say; really doing it is a particular experience of fullness and also perhaps of humility.
Tragedy becomes a gift
The health care workers who met Luigi's parents during the pregnancy checkups were amazed. "Their affection without measure, without conditions, dictated by love but also by reasoning that is not clouded by ideologies about unwanted children or by the usual 'you must always do it this way,'" led them to do something unusual in today's world. They treated their unborn child as a person.
If you take this perspective, everything changes incredibly for the better. What appears to be an irreparable "tragedy" is transformed into a gift, the gift of life, as brief as that life may be.
Luigi wasn't a defective product, a misshapen clump of cells, an unexpected inconvenience to be discarded. He was a child, a person, a life to be cherished. A flower that only blooms for one day is no less beautiful, no less to be cherished, than a plant that blooms every year.
Gratitude
Therefore, the parents and family waited for this birth not only with understandable sorrow, but also with gratitude for the arrival of a new life. That arrival would be a beautiful and precious thing for which Luigi's whole family was prepared. The grandfather wrote in Il Sussidiario that Luigi was:
… a new baby who was in quite a rush to return where he came from, almost like a visitor who had a great desire to greet us and to bring us the greetings of He who sent him as a true angel, even if only for half an hour, but who really cares, who then had to return to very important matters …
The most frequent reaction of people outside the family's inner circle was amazement at their willingness to carry to term a pregnancy marked by such a certain and sad outcome. It was as if the parents had to justify not killing their child in the womb. People seemed to want to hear that he would fulfill some expectation or have a "valuable future," as if his brief existence inside the womb and briefer time in his parents' arms had no value at all.
Luigi's older siblings, Caterina, Stefano, Lucia, and Francesco, were sleeping over at their grandparents' house when he was born just before midnight. Mom and Dad's video call woke them up so that they could meet their little brother. He was breathing with difficulty in his parents' arms, and was about to die.
The grandfather and hospital staff in attendance were floored by what happened next: Luigi's mother, Maddy, invited all of Luigi's siblings to sing together the prayer to the guardian angel. In the article, their grandfather describes how it affected him. It was
a dramatic moment for everyone, but also full of a strange joy … A few minutes of ecstasy … in which, in addition to crying, I understood that no one is exempt from this love that always asks for more by its very nature. It asks a lot … but gives you beauty and intensity that you would never be able to create on your own, to invent.
The image of these siblings, who accompanied little Luigi at a distance on his way to his meeting with the Lord, entrusting him to his guardian angel, fills our heart with tears of hope in the certainty of resurrection. "Where, O death, is your victory?"


Read more:
Heartwarming photo shoot preserves memory of newborn twin who died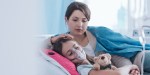 Read more:
The forgotten ones: The brothers and sisters of a terminally ill child