A severe injury left her husband-to-be disabled, but his bride did not give up on him.
Need an idea for Lenten almsgiving?
Help us spread faith on the internet. Would you consider donating just $10, so we can continue creating free, uplifting content?
Make a Lenten donation here
In a society dominated by what Pope Francis calls the "throwaway culture," which affects practically all aspects of life, it's refreshing and encouraging to see counter examples of love and human dignity.
Although the idea of a throwaway culture is often referenced in the context of the environment, for Pope Francis it goes much further. In Fratelli tutti, for example, he points out that:
Some parts of our human family, it appears, can be readily sacrificed for the sake of others considered worthy of a carefree existence. Ultimately, "persons are no longer seen as a paramount value to be cared for and respected, especially when they are poor and disabled" (Fratelli Tutti, 18).
This is perhaps the ugliest side of the throwaway culture phenomenon: Human beings themselves are discarded. Cardinal Tagle, at the World Meeting of Families in 2018, mentioned how throwaway culture also applies to marriage, to the point where one spouse may come to look on the other as "obsolete" and ready to be set aside or replaced.
Today, we want to share with you the story of Liz and Freddy. They are a Paraguayan couple whose love goes against the tide of selfishness and affirms the value of every person.
Liz Brizuela and Freddy Saavedra are a young couple in their 20s. They've been together for eight years, and now have two children. It's not clear from the sources available why they hadn't gotten married before, but the point came recently when they decided to seal their union with God's grace. But their plans ran into an unexpected setback.
A little over a year ago, Freddy was involved in an accident that left him with serious physical and neurological consequences. Freddy had to spend a month in the hospital, and needs to go back to have a plate inserted to protect his brain where part of his skull had to be removed. He has been partially blinded, has to take medicine for seizures, and needs constant medical care.
Although Liz says he was a very good provider and an exemplary father before the accident, now "he's like another child who needs a lot of care," she told the Crónica news outlet. At a time when many people might reconsider marriage, Liz decided to start preparations to make the wedding happen, and it took place on January 23, 2021.
Her decision was not unanimously applauded. Liz relates, in Crónaca:
Many people asked me why I want to marry a sick person, who won't be of any use to me, who won't be able to take care of me or our two children, who will only be a burden … but I tell them that he is the love of my life, and I love him in good times and in bad.
A dream fulfilled with the help of the community
Due to the accident and his inability to work, Freddy was fired from his job. With the compensation he received, he and Liz bought a special printing machine to start a home business selling personalized items, such as mugs and thermoses. But with the pandemic, they haven't had much success.
Not only do they have limited income, but they have Freddy's medical expenses to cover. They are living with their parents, as they cannot afford a house of their own.
Liz says that sometimes they earn the equivalent of less than nine US dollars a week. Even though the cost of living isn't high where they live, that's not a lot for a family of four. How were they going to manage the expenses of a wedding?
Liz decided to turn to social media, and appealed to the solidarity of the community to fulfill her dream: to marry the love of her life. "Now more than ever, we want God to bless our union, but we don't have the resources to do it," she said, as quoted by Crónica.
"I cannot abandon him now because it's when he needs me most. I'm asking for help, if someone has a dress or something they could donate," she wrote, reports Extra.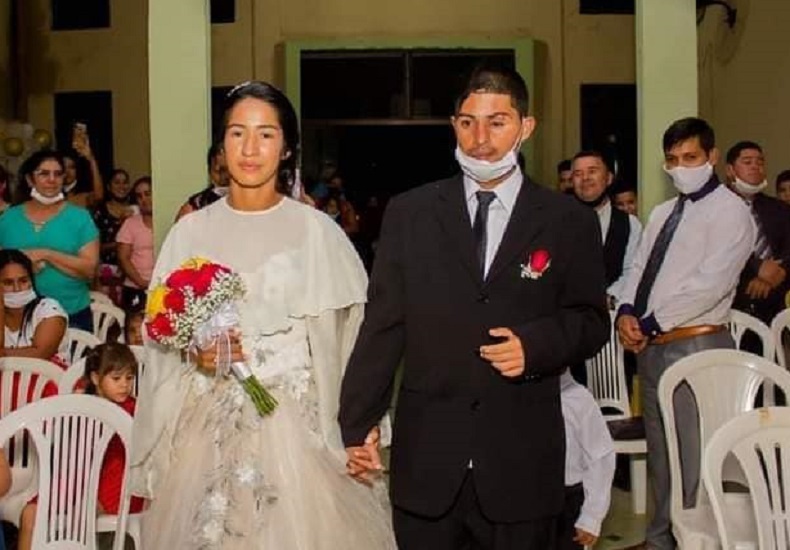 Help was quick to arrive
The couple's story touched thousands of people who decided to do their part so that the couple could celebrate their marriage in the best way possible. Soon, they received all the essentials, starting with the cake and the wedding gown. "I already got the gown, the makeup, and everything else," she told Extra just days before the wedding.
And so it was that Liz Brizuela and Freddy Saavedra were married January 23 at their evangelical church in the Ciudad Nueva neighborhood of Ciudad del Este, Paraguay.
"I never imagined that we would receive so much help from the people. Thank God, it was a wonderful celebration and we were very happy," Liz Brizuela told Aleteia. Without hiding her emotion, she expressed thanks for the gestures of solidarity.
"Freddy still has many battles to fight, as he will soon have to undergo reconstructive surgery on his head, but with God's help, everything will be fine," said Liz.
This is a beautiful example of the contrast between true love and throwaway culture. When Freddy became disabled, when some people said he wasn't "useful" anymore, Liz did not stop loving him.
In fact, his need strengthened her decision to ask God's grace upon their union in marriage. That decision then met with the support of a community, inspired by their example.
May God bless them going forward. May other couples who face difficulties also be inspired not to give up, but to live their commitment more intensely and to call upon God's grace to bless them. And may we, as members of a community, offer the blessing of our support as well.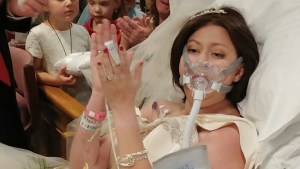 Read more:
Heather and David chose to marry, despite her terminal cancer diagnosis
Read more:
This pandemic threatened their wedding, but God helped them find a way