Franciscan friars first developed the technique of making crosses inlaid with mother-of-pearl.
For the first step on the long journey of the crucifix, could there be anywhere better to begin than Jerusalem?For centuries, the city of Christ's Passion has attracted pilgrims from around the world. For most of that time it was a difficult and dangerous journey.
Mother-of-pearl crosses
Then, as now, most visitors returned home with souvenirs. Crosses inlaid with mother-of-pearl have always been a favorite. There are few places as expert with this inflexible material as the Holy Land. Franciscan friars from Italy developed the technique there at least 500 years ago. The shells came from the Red Sea.
After centuries of refinement, even the critical eye of the American Journal of Science and Arts wrote admiringly about their output in 1837: "The inlaying of mother of pearl has been brought to high perfection in Jerusalem." It remains an important cottage industry in Palestine, run mainly by local Christian families.
This cross with its matching Corpus Christi is from the 19th century and would have been an item de luxe. It is only nine inches high and yet the weight in your hand reveals its quality. Unlike most of these wares, which use minimal mother-of-pearl, the olive wood underneath this one is entirely covered. The cross has a sepulchral coldness to the touch, making it a tactile memento mori as well as a memento of the Passion.
The engraving on the reverse is expressively highlighted with black ink.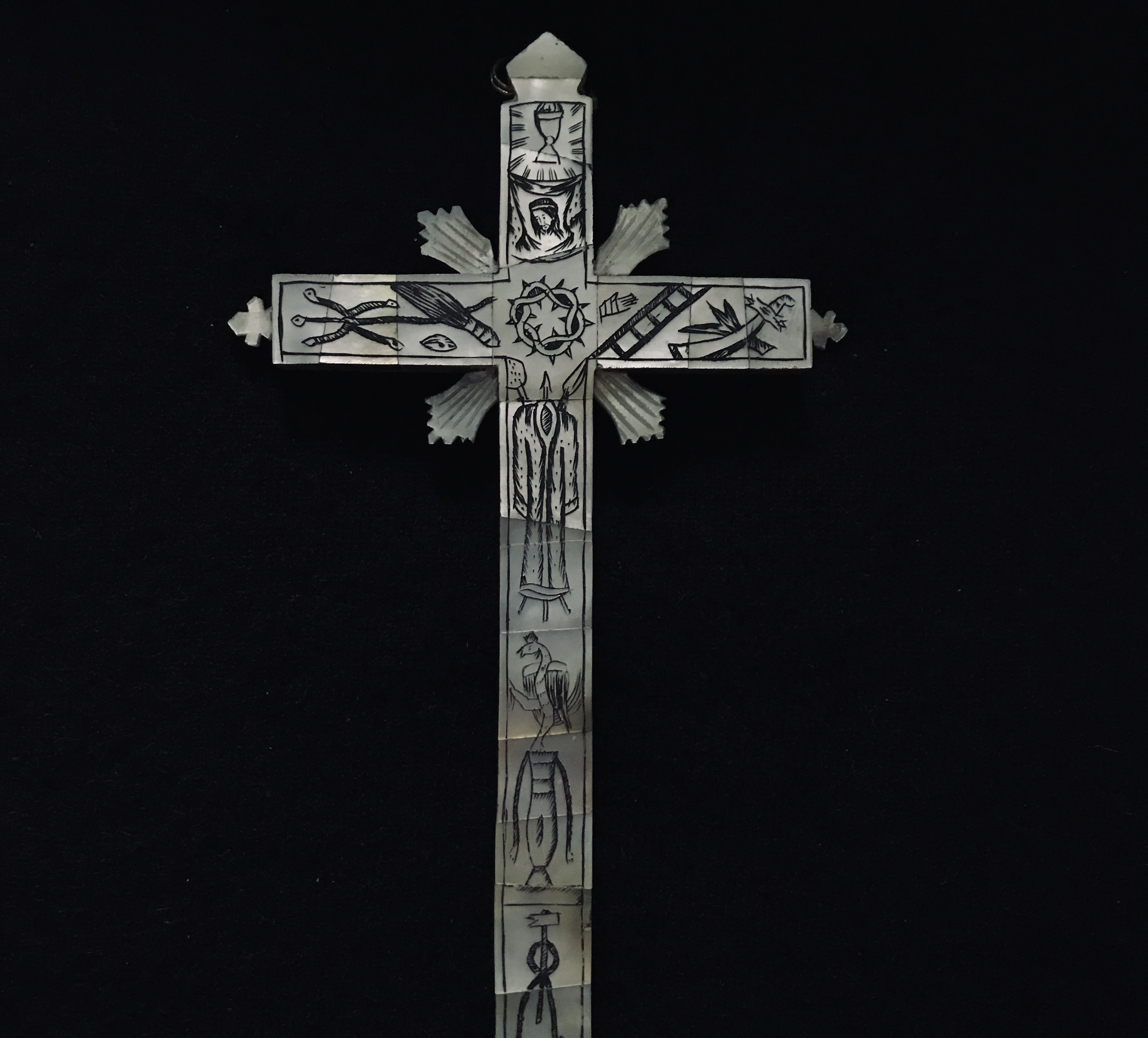 Among the most vivid symbols of the Arma Christi are the veil of Veronica and the robe of Jesus. The sword on the right is a reminder of the Garden of Gethsemane. It provides a regional flavor as the artisan has seen it as a curved scimitar of the type that became popular much later in the history of the Middle East. The Bible doesn't describe the shape of the sword used by the impetuous St Peter when he cut off the ear of the high priest's servant. This was left to the local imagination. Whatever the sword looked like, the incident is a reminder of Our Lord's mercy and healing powers. After reprimanding Peter for his actions, Jesus reattached the severed ear. This would be His last miracle before the Resurrection.
The virtual Museum of the Cross
This crucifix is from the collection of the Museum of the Cross, the first institution dedicated to the diversity of the most powerful and far-reaching symbol in history. After ten years of preparation, the museum was almost ready to open; then came COVID-19. In the meantime, the virtual museum is starting an instagram account to engage with Aleteia readers and the stories of their own crucifixes: @crossXmuseum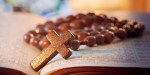 Read more:
How the cross came to be the symbol of Christianity