Priests have accompanied the sick and dying and been there for hospital personnel.
What can God do in your life with one Bible verse a day?
Subscribe to Aleteia's new service and bring Scripture into your morning:
Just one verse each day.
Click to bring God's word to your inbox
A year after the new coronavirus began filling hospitals across the United States, much of the fear that it caused has subsided. But hospital personnel are longing to emerge from the long, dark tunnel that has been the COVID-19 pandemic, and patients and their families are in great need of a chance to mourn.
Hospital chaplains said as much in interviews with Aleteia over the past couple of weeks. As EMT crews, doctors and nurses have been on the front lines of the pandemic, chaplains have been on the "spiritual front lines," providing pastoral care for patients, families, and hospital personnel themselves. Taking great precautions at first, they ministered to patients through glass walls or over a telephone line, but have cautiously moved closer to patients, to hear confessions, bring the Eucharist, and anoint at the end of life.
Some have gotten sick themselves with COVID, and many have already begun receiving vaccinations against it.
"In the beginning it was the unknown. It was probably more characterized by fear," said Fr. Richard Bartoszek, 62, a chaplain at Beaumont Hospital in Grosse Pointe, Michigan. "That was when it first hit us, in March and April of 2020. And it was just horrible. I never saw anything like it. ... We had never seen so many people so critically sick."
The small hospital quickly reached capacity, and every ICU bed was filled. "We had makeshift ICUs," Fr. Bartoszek said. "You would go home mentally exhausted."
Then two Beaumont employees died — a physician and another staff member. "Those hit us hard," Fr. Bartoszek said. "We're a smaller hospital. We're located right in a neighborhood. The people who work here have worked here for years. It's a real family sense of people who work together here."
Medical personnel and those ministering to COVID patients in time learned more about the coronavirus and how to deal with it.
"With the second wave, in the fall, people were coming in and people were going home," Bartoszek said. "The vaccine has been made available to us. I've had both shots already. People feel better that they have that, but there's still that risk out there."
Helping family members
Even from the beginning, Fr. Bartoszek would enter patients' rooms for anointing. Now, he feels freer to go in for a variety of reasons. One thing that he and other priests found to be especially important was being with families at the end of life, when someone was taken off a respirator, or after they passed away.

"The piece that's been most meaningful to me is, a lot of these individuals can't have other visitors, especially when the pandemic first started last March," said Fr. Matthew O'Donnell, who's been part of a team of some 25 Chicago Archdiocese parish priests who are on call to visit the dying in area hospitals. "Through June, hospitals weren't allowing family members in, even if the hospital was pretty sure the person was not going to survive. So knowing that at times I might be one of the last people to interact with that individual, that's a very humbling experience."
Fr. O'Donnell, 34, said it's meant a lot to families knowing that a priest is "willing to go into someone's room and pray with them." One family considered it such a blessing that they mentioned in the obituary that Fr. O'Donnell was present at their loved one's passing.
Now, not only chaplains but, more and more, family members are being allowed to accompany the dying in their last moments. This has also been a great help for nurses and other caregivers. When family members and chaplains were not permitted access to contagious patients in the early months of the pandemic, it was nurses who often held a dying patient's hand.
"Now family members can gown up and be present to the patient until they pass. That's helped us tremendously," said Fr. Patrick Fitzsimons, 60, chaplain at the Nashville Veterans Administration Medical Center. "Medical caregivers felt a responsibility being a conduit for family and being present to the individual who is dying, holding their hands, comforting them, and making sure none of our veterans died alone without that human touch. And of course, that takes a toll."
"I have found that the hospital personnel are always grateful to see the priest willing to go into the room and provide comfort for the family, because for the nurses or others who are on the unit, they're doing that all day, and sometimes for multiple patients at the same time," said Fr. O'Donnell in Chicago.
Aid to healing
Chaplaincy has also proven invaluable as part of a person's overall recovery, as was shown at O'Connor Hospital and Santa Clara Valley Medical Center in San Jose, California. Fr. Randy Suárez Valenton, 52, had anointed a COVID patient who was on a ventilator. Eventually, she took a turn for the better but didn't realize the progress she was making. 
"The doctor asked me to help her understand she was improving, because the patient at the time was resolved to die," Fr. Suárez said. "The doctor asked me to help her understand her situation and integrate the faith into the plan of care. I asked her 'What if God wants you to recover — would you respect that?' And she said Yes. So I said 'If the doctor asks you to do something, that would be a sign.'"
The patient subsequently recovered.
Though the advent of several vaccines is offering hope for light at the end of the tunnel, Fr. Fitzsimons and other chaplains know that there will still be a lot of work ahead, even after the pandemic is over. There will need to be a lot of healing on the part of family members who were not able to be with their loved ones when they died. In many cases, funerals were not possible. People had to say goodbye to a loved on in a closed casket. There's been a lack of closure in so many people's lives.
"We haven't really begun to deal with the next level of the effects of COVID on families, mentally and otherwise," Fr. Fitzsimons said. "A lot of the things that are normally part of the grieving process aren't there for the families. … We probably were too restrictive in how we limited worship. We could have done so safely and still been an oasis for people and provide for pastoral needs."
"You feel bad for families who can't have a normal funeral: the sense of grief and how people aren't able to grieve. It's when families come together and can hug each other and be present to each other," said Fr. Bartoszek in Michigan. "There are no grief groups. Virtual is not the same as being with 10 or 12 people in a room. There's going to be a need for a lot of grief counseling after we can gather again safely."
When that time comes, no doubt, chaplains will continue to be present to patients, families, and caregivers in a variety of settings.
Read more:
Portuguese priest, a former nurse, returns to hospital to help COVID-19 patients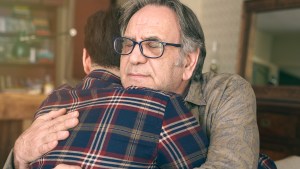 Read more:
5 Hardships of COVID-19 that can help sanctify Lent