Law would ban abortion after ultrasound reveals child's heartbeat
A bill that would provide greater protection to unborn human life passed in the House of Representatives in South Carolina Wednesday, by a vote of 79-35. Gov. Henry McMaster has promised to sign the legislation.
Similar to a number of state laws that were enacted in recent years, South Carolina's Fetal Heartbeat and Protection from Abortion Act already passed the South Carolina Senate on January 28. It would require doctors to perform ultrasounds on expectant mothers to check for a heartbeat in the unborn child. If one is detected, an abortion would be permitted only if the pregnancy was caused by rape or incest or the mother's life is in danger. Anyone performing an abortion in that case could be charged with a felony, sentenced up to two years and fined $10,000 if found guilty.
A heartbeat can usually be detected at about six or seven weeks gestation.
Among the legislators voting for the bill was Rep. Melissa Lackey Oremus, who recounted how she had gotten pregnant for the first time at age 16. She said she was unsure what to do until she had an ultrasound and heard her child's heartbeat, AP reported.
"That sound to me was, I had a human being inside of me," said Oremus, a Republican from Aiken and a 42-year-old mother of three. "That sound, it was the most beautiful sound to me. How could I have a choice to kill that sound, to make it go away?"
Of the roughly dozen other similar state bills that have been enacted, none has taken effect yet, as they are tied up in court challenges. That is a fate likely to affect South Carolina's new law as well. 


Read more:
Embroidered ultrasound allows blind dad to "see" his unborn baby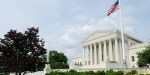 Read more:
Supreme Court leaves in place Kentucky law requiring doctors to describe ultrasound