Gain practical strategies and faithful inspiration from these uplifting podcasts.
I'll never forget the overwhelming rush of emotions and exhaustion that came with having my first baby. At 10 days postpartum, very sleep-deprived and still healing from a difficult birth, I broke down crying to my mom.
"I can't keep doing this!" I sobbed. "It's too hard! How can anyone live like this?"
My mom, who has 7 children herself, reassured me. "It really is hard," she said, "But think of it this way: We are all called to be saints, and the sacrifices you're making right now are helping you get there."
Her words helped me focus on the eternal reality, in the face of which temporal trials fade away. Focusing on Heaven to be able to endure earthly trials is a scriptural approach. The Bible tells us, "This momentary, light affliction is producing for us an eternal weight of glory far beyond all comparison" (2 Corinthians 4:17).
Of course, our day-to-do struggles don't feel "momentary" and "light" while we're in the midst of them! The days of new motherhood, in particular, can feel bewildering and never-ending as you adjust to a major lifestyle shift.
If you're in the midst of these changes yourself, one of the best things you can do is hear from more experienced moms. I always find their perspective to be so helpful and encouraging!
A great podcast is a convenient way to benefit from the wisdom of more experienced parents, on your own schedule. You can listen at any time of day or night, and get the little boost in morale that you need at that moment.
These podcasts offer all kinds of helpful insights from other mothers. Give them a listen during these pregnant or postpartum days!
Launch the slideshow


Read more:
10 Inspiring podcasts for growing in faith this Lent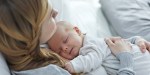 Read more:
5 Postpartum tips for Catholic moms