And learn more about God's creation.
With the recent freezing temperatures many have been experiencing, a dad of three boys seized the opportunity to bond in a most unusual way.
Alex Asbridge from England decided to use his skills honed in the Royal Anglian Regiment to keep his boys busy during lockdown and build them a not-so-cozy home in the garden.
Although their previous snow-building skills amounted to making snowmen, the sergeant major and his sons got a rectangular plastic box and pressed snow inside to create snow bricks. They then created a rudimentary igloo on a "trial and error" basis.
The children appreciated the outdoor activity and, as their dad shared with the BBC, they were "really proud of themselves for achieving something different."
Asbridge's 10-year-old son, Riley, persuaded his dad to brave the freezing conditions, and so the pair slept in the igloo in -5 degrees. Thankfully they were properly equipped with winter-ready equipment, and the two managed to a whole night in their winter palace. The following night the little brothers tried to join them, but weren't quite ready to cope with the unusual accommodation.
While you might not be up to managing your own night in the cold, Asbridge and his children are the perfect example of making the most of this chilly weather by embarking on a project that teaches children so much about the beauty and practicality of God's creation.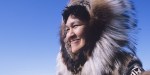 Read more:
The Inuit's secret parenting technique for dealing with temper tantrums