The Holy Father went to see the Hungarian poet in her home in Rome.
Pope Francis paid an impromptu visit to Edith Bruck, an 88-year-old writer and survivor of the Holocaust, at her home in Rome, the director of the Holy See Press Office communicated on February 20. This Jewish novelist, of Hungarian origin, has been living in Italy since the mid-1950s.
The conversation between the Pope and the intellectual lasted about an hour, and was the occasion for the writer to bear witness to the "experience of the hell of the Nazi concentration camps," where she was sent during her childhood. Much of her family perished in the camps — her mother in Auschwitz, her father in Dachau.
She also spoke with the Sovereign Pontiff of "the fears and hopes for the present time."
Both emphasized the "value of memory and the role of the elderly in cultivating it and passing it on to the young."
Edith Bruck, like Bishop Vincenzo Paglia, president of the Pontifical Council for Life, is a member of the government commission set up by the Italian Minister of Health to reflect on the fate of the elderly.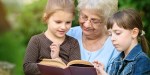 Read more:
Vatican calling for a rethinking of elder care, with innovations so people can stay home