If you're on the fence about volunteering as a couple, these 8 reasons are sure to convince you!
It's common for us to spend most of our time outside of work or in the pursuit of rest and entertainment, limiting our spiritual experience to prayer or individual service. As a couple, we often waste valuable energy that comes with the vocation to love.
It's true that work is demanding and that moments of rest are also necessary. It's also valid for one person in a couple to feel particularly called to make a concrete contribution in a personal way. There are many opportunities, however, for engaged couples and spouses to serve together. This service can strengthen their experience of their vocation to love.
What if we could do more together? Serving others as a couple does take time and energy, as we have to coordinate so as to make a positive contribution together. But the effort is worth it, as it can fill us with a stronger sense of purpose in our relationship.
There are many reasons why serving as a couple helps us grow in love. It pulls us away from selfishness, helps us face challenges better, teaches us to coordinate our tasks, sets an example to those around us, and makes our time on earth wiser and more productive.
Launch the slideshow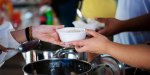 Read more:
Questions you should ask before making a volunteer commitment