If you feel like you're running on empty after all these months, find comfort and strength in wisdom from Scripture and the pope.
Are you feeling anxiety because of the coronavirus? If so, you're not alone!
If you're anxious or fearful, I can imagine what might be the cause: You feel like you're not in control of your life. Possibly, you're thinking about what you might lose, or what you've had to (or will have to) give up.
Today, I want to invite you to shut out the noise of the world for a moment. Ask the Lord, "What do you want me to learn?"
What do we mean by "hitting the pandemic wall"?
In recent months, there's been much talk about how many of us are "running on empty" after so many months of the pandemic with no clear end in sight. Feelings of exhaustion, frustration, and isolation are common.
Experiencing a low mood is normal in any crisis, especially if the situation drags on. Many people are feeling as if their energy or adrenaline, stimulated at the onset of the crisis, has finally run out. They've "hit a wall."
Some people are more likely than others to be experiencing this situation. It's especially common in those who live alone, those who've lost their jobs or whose job security is threatened, and those who've suffered the deaths of friends and family members. Our "fight or flight" reflex might be tending more to "flight" than "fight," because we feel like we just can't do it anymore.
In reality, COVID-19 has uncovered an existential situation that has always been with us. All too often we base our happiness entirely on external circumstances, which are mutable and precarious by nature. We feel happy when we have material well-being, without looking deeper. Now, the crude reality of the pandemic is hitting us with such intensity that we are forced to recognize our fragility and neediness in the face of something we cannot control.
"Do not be afraid …"
"Dear friends, may no adversity paralyze you. Be afraid neither of the world, nor of the future, nor of your weakness. The Lord has allowed you to live in this moment of history so that, by your faith, his name will continue to resound throughout the world." (Benedict XVI)
The historical moment we're experiencing is an opportunity to ask ourselves what sustains us in life, and what's essential. The situation pushes us to return to the question of the meaning of our existence.
No one knows what's going to happen. This is an opportunity to look at reality face to face and acknowledge that not everything depends on our decisions and abilities. COVID-19 reveals to us the nature of our neediness.
"For you need endurance, so that when you have done the will of God, you may receive what was promised." (Hebrews 10:36).
If we're looking for happiness, we should remember that God created us to be happy. He created each one of us with a perfect plan for us. It's a plan that no one can fulfill better than we can, with the Lord's help.
"So do not worry about tomorrow, for tomorrow will bring worries of its own. Today's trouble is enough for today." (Matthew 6:34)
God has chosen us for this
Faced with the times we're living through, we should not allow our fears, insecurities or limitations to paralyze us. God makes use of us, with all our limitations, so that it's clear that our strength comes from Him.
God chose the apostles for a task that may seem titanic to our eyes. Now He has chosen us to fulfill His plan in the present moment.
It is written: "I believed, and so I spoke" (2 Corinthians 4:13). In the present circumstance, we need people inspired by faith, who are capable of using time constructively and not wasting it. We need people in whom we can see incarnated the experience of God's provident action.
We need to see people whose example in the face of fear and anxiety allows us to glimpse the existence of a Father who never lets himself be outdone in generosity, and who fills us with a meaning and purpose commensurate with the greatest challenges of life. "For this slight momentary affliction is preparing us for an eternal weight of glory beyond all measure" (2 Corinthians 4:17).
"Let us invite Jesus into the boat of our lives"
The most imposing figure is that of Pope Francis, who on March 27, 2020, challenged us from St. Peter's Square with these words: "Why are you afraid? Have you no faith?" He went on to say,
Faith begins when we realize we are in need of salvation. We are not self-sufficient; by ourselves we founder: we need the Lord, like ancient navigators needed the stars. Let us invite Jesus into the boats of our lives. Let us hand over our fears to him so that he can conquer them. Like the disciples, we will experience that with him on board there will be no shipwreck. Because this is God's strength: turning to the good everything that happens to us, even the bad things. He brings serenity into our storms, because with God life never dies.
Who said we have to wait for the pandemic to end before we can live fully?
Read more:
Discouraged by the pandemic? These quotes from the saints can help!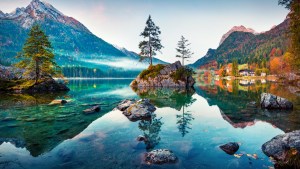 Read more:
10 Quotes from the Psalms to bring calm in times of anxiety