Ur is one of the world's oldest cities, but war and political instability have cut off outside interest.
Send us the names of your loved ones who are sick or suffering. The Aleteia prayer network of 550 monasteries will take them to prayer for the World Day of the Sick.
Click here to share your intentions
Change can be difficult, but at the age of 99, Abram received a new name from the Lord: Abraham, meaning "the father of many nations."
When Pope Francis visits Ur, the birthplace of Abraham, many in Iraq will be hoping for change as well — not of a simple name, but of the way peoples relate to one another. Abraham is known as the common patriarch of Christianity, Judaism and Islam. Jewish and Muslim leaders will join Pope Francis at Ur for an inter-religious prayer service. The March 6 event also will be attended by representatives of Mandaean-Sabaean, Yazidi and other religious minorities present in the country.
The focus will be on harmony between religious groups in a service the Vatican has named "Prayer for the sons and daughters of Abraham," said Reuters. 
Another group of people are hoping for a change as well. Local archeologists are happy for the Pope's visit, as it will draw attention to the birthplace of Abraham.
The ancient Mesopotamian site is one of the world's oldest cities, and its significance goes beyond its connection with Abraham. It's where urban dwelling, writing and central state power began. Reuters explained that the site was excavated about 100 years ago by Leonard Woolley from the U.K. But little work has since been done on it. 
The landscape in Ur is rather desolate, consisting of not much more than a ziggurat — a Mesopotamian pyramid largely reconstructed in the pre-2003 era of Saddam Hussein — and some ruins known as the House of Abraham.
In 1999, Pope John Paul II canceled a trip to Iraq after negotiations with Saddam Hussein failed. Ali Kadhim, director of the House of Abraham, told National Public Radio that he has worked at the site for more than 20 years. Kadhim, who is Muslim, said Pope Francis' visit will highlight the tolerant side of Iraq, in spite of the recent history of the Islamic State group.
"Muslims welcome this visit," he says. "And they are interested in it, because it reflects the reality of relations between religions in Iraq."
Reuters said that the site, some 200 miles south of Baghdad, was popular with Western visitors in the 1970s and 1980s but is scarcely visited today "after decades of war and political instability shattered Iraq's international tourism industry. The coronavirus crisis now also keeps local tourists away."
The wire service added that an Italian-based organization, Un Ponte Per, is working with the United Nations Development Program on paths, rest areas and signposts that will make the site more tourist-friendly. Roads are being renovated, and powerlines extended.
Read more:
Pope Francis to visit Iraqi church that was almost destroyed by ISIS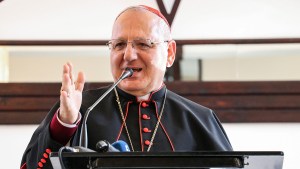 Read more:
Iraqi cardinal issues call to prayer for Pope Francis' visit