Pope Francis praises the testimony given by the many health care workers who have put their lives at risk during the pandemic.
The dedication of medical personnel who have given their lives to fight the pandemic is "a vaccine against selfishness and egocentrism," Pope Francis said in a message read at a memorial ceremony held in Rome on February 20, 2021.
By their sacrifice, society is "challenged to bear witness more and more to the love of neighbor," the pope said.
The pontiff's message was read by Bishop Vincenzo Paglia on the occasion of Italy's national day for health care workers.
The Holy Father praised those for whom the "generous and sometimes heroic practice of their profession has been lived as a mission." He expressed the gratitude of society for those who have risked their lives, and the many who have lost their lives during the pandemic.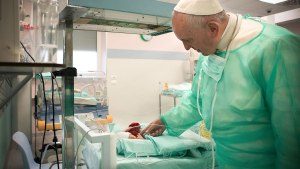 Read more:
Pope thanks nurses: You are among the 'saints next door'
Seeing their selfless testimony, society is "challenged to bear witness more and more to the love of neighbor and concern for others," especially for the weakest, the pope added.
They witness to the "most authentic desire in the heart of man" — to put oneself at the service of neighbor, he said.
Two commemorative plaques in memory of practitioners and volunteers who died during the pandemic in Europe and Italy were inaugurated and blessed by Bishop Paglia.
The bishop was appointed in 2020 to head a government commission on the elderly, in light of the great suffering of this group during the pandemic.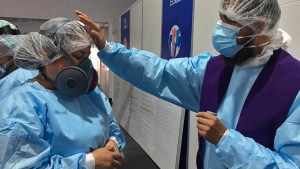 Read more:
Chaplains share experience ministering to COVID patients