Having previously faced rejection, Brigid Kavanagh finally got her words in print.
At 95, Brigid Kavanagh has finally fulfilled a longtime ambition of publishing a book. Yet, her path to having her words put into print wasn't easy, and required determination and belief in the abilities that nuns had first pointed out to her several decades before.
With the strict lockdown in Ireland, Kavanagh's family seized the opportunity to help the nonagenarian publish her book. They compiled the many poems and stories written by their mother and had 500 copies of the book In my Mind's Eye, Walking Amongst Ghosts printed.
My 95 year's young Nana Brigid Kavanagh will be on @RTERadio1 soon to discuss her wonderful book In My Mind's Eye, Walking Amongst Ghosts. So proud! pic.twitter.com/WlrGyDxwpg

— Patricia Kavanagh (@PishKav) February 16, 2021
Kavanagh tried to get some work published in her 80s, but was met with disappointment. So the publication of her writings is a great triumph: "I just can't believe it … I'm absolutely thrilled. After my disappointment in the 80s, I thought I was finished," she shared with RTE News.
The senior from Roscommon in Ireland shared with the news channel that she's always found it easier to express herself on paper — a gift that didn't go unnoticed in her schooldays: "When I was young the nuns said to me 'you should be a writer.' They'd ask me to read out my essays … I think it would be grand if that nun could be around to see that prophecy fulfilled."
While the nuns may no longer be there to see what became of their former pupil, the book, which consists of the rich memoirs Kavanagh has written throughout her lifetime, will give the reader insight into World War II in London, her life in Dublin, and back to life in her hometown of Roscommon.
The writer has been given "a new lease of life" according to her son Declan, who, accompanied by his brother Sean, helped his mother fulfill her lifelong dream.
While there are only a limited number of copies available, the real success of the publication is seeing a family coming together to help their mother, and an elderly woman's satisfaction in seeing her words finally in print for all to enjoy.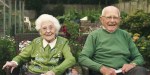 Read more:
Watch this inspirational elderly Irish couple talk about marriage, COVID-19, and faith