After a year apart, their affectionate reunion is truly moving to witness!
Since they met in the late 1950s, Stanley Harbour, 83, and his wife, Mavis, 81, had hardly spent a day apart. Then, late in 2019, Stanley, who was suffering from dementia, had to be admitted to the nearby Lever Edge Care Home, which specializes in care for elderly people suffering from that affliction.
In February of last year, Mavis left the nursing home after a visit, believing that this was just one of the many visits she'd make in 2020 and that she'd be able to return soon. Then, it was discovered just how fast the coronavirus had begun to spread in the UK. To protect the elderly living at Lever Edge Care Home, visits were cut off indefinitely.
After 60 years of marriage, for the first time Stanley and Mavis—who have two children, three grandchildren and a great-grandchild—had to spend a year apart. According to the local Manchester Evening News, they felt "lost without each other."
Reunited
In early 2021, Mavis fell ill, and decided it was time for her to move into Lever Edge as well. ITV reports that she had to spend a 14-day isolation period upon entering the facility before being able to reunite with her husband.
When the quarantine had passed, a meeting room in the facility was sanitized and decorated with roses to host the meeting. Upon entering the room, Mavis walked over and gave a kiss and a hug to her husband, who was sitting at the head of the table. "I couldn't believe it when I saw Mavis," Stanley said, according to the British periodical. "It was like a dream!"
Mavis was no less moved. ITV quotes her as saying,
"I was very pleased to see Stanley. I've missed him so much that I got overwhelmed and just cried. I'm so happy. I never want to be away from him again. I feel lost without him."
The reunion even included sparkling wine served by a nurse, who wore a mask and face shield. "We were so pleased to reunite Stanley and Mavis," said Lisa Martin, manager of Lever Edge. "There wasn't a dry eye in the room when she was finally able to see her beloved Stanley again."
Visits to nursing home facilities in the UK continue to be tightly restricted. Although The Guardian reports that "almost all care home residents have now had their first dose of vaccine," for many the second dose is still pending.
The hope is that after the vaccination program is complete, the restrictions on the number of visits—and the precautions taken during them—may be somewhat relaxed. The Guardian points out that "relatives and residents believe" that the lack of contact between them "has been causing serious mental and physical health problems."
Here, you can watch the video of the reunion between Stanley and Mavis: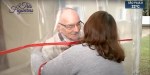 Read more:
Brazilian nursing home creates "hug tunnel" for elderly residents during COVID-19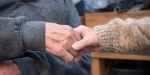 Read more:
Elderly couple separated by pandemic for more than 100 days has emotional reunion