Christian art has a rich treasury of symbols that communicate various spiritual truths.
Whenever you walk into a Catholic Church, you may notice various types of artwork on the walls or stained glass windows. These pieces of artwork were carefully crafted not only to be beautiful, but also to communicate divine truths.
Here are 10 such symbols and their spiritual meaning.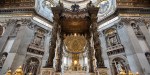 Read more:
A visual guide to the symbols of St. Peter's Baldachin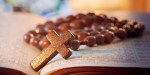 Read more:
How the cross came to be the symbol of Christianity