The first single from his upcoming album, 'Alone With My Faith.'
Award-winning jazz musician Harry Connick Jr. is back with a brand new album. Called Alone With My Faith, the work will be a reflection on Connick's time in isolation during the world pandemic. The first single he released, "Amazing Grace," features a wildly jazzy style that has us excited to hear the rest!
His treatment of "Amazing Grace" stands as a completely fresh rendition of a standard Christian hymn. It didn't give us shivers like some versions do, but it still had us in awe. Connick's meandering piano style peppers in broad jazz chords and grows the tune with church organ and background vocals. The work does a great job of merging jazz with the sacred music tradition.
Recorded alone in isolation
The most impressive part of this new album is that Connick recorded all instruments and vocals by himself. In an interview with Billboard, the singer described recording by himself in isolation:
"I was able to go deep within myself as a musician and a man, uninterrupted by the normalcies of collaboration or human interaction. It was a sort of 'musical isolation chamber,' a silent retreat, the silence only broken by the sound of my own voice, the instruments I played and the occasional microphone I inadvertently knocked over, as I'm not the most graceful recording engineer that ever lived!"
Connick's new album will contain a mix of Christian hymns and original works written from isolation. He notes that the hymns include "How Great Thou Art," "Because He Lives," "Be Not Afraid" and "The Old Rugged Cross." In a personal note, he wrote:
"I, like most of us, felt joy, sadness, doubt, conviction, melancholy and inspiration — all the emotions that faith, or lack thereof, can elicit. Even though many of the songs are Christian, my hope is that they will resonate with people of all faiths, as it gives me great comfort to know that faith is an immeasurably beautiful gift that, with its universal spirit, can help bring us together in the most arduous of times."
Alone With My Faith will formally release on March 19. Visit Harry Connick Jr.'s website for more details.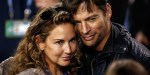 Read more:
Harry Connick Jr. talks about loving his wife in her 5-year battle with breast cancer