Navigating a job with a new baby isn't easy, but it's doable when you put these ideas in place!
When I was pregnant with my first child, I had a job where I worked remotely. Perfect, I thought. When he is born, I can just keep working from home. How hard can it be to work with a tiny baby around?Turns out it's … pretty hard! But not impossible. If you want to work from home with your newborn so you can spend more time together (and also save money on childcare!) — wonderful. Will it be challenging? Most definitely. But is it possible? Most definitely.
Here are some tips for navigating a 40 hour work week and a new baby. 
1
Strategically plan your meetings
The older your baby gets, the more you can count on a routine, and thus plan meetings for when the baby will be asleep. If you are going back to work when the baby is a few weeks old, this will be the hardest part. Just know that it will all get easier soon, and save your best placating-the-baby tricks for meeting times.
2
Find a baby carrier
Babies love being held, and this way you can have your hands free to type. If you can borrow one from a friend, shoot for that, so that you can find a good fit (and so that you don't spend a fortune buying one that you can't figure out or get comfortable in). And if you or your baby struggle with a baby carrier, don't be afraid to try again a week later. Sometimes a week can mean a world of difference, as your baby is growing and changing so rapidly. 
3
Give yourself a break
Realize you won't be able to work or parent exactly how you hoped. This was something it took me a while to accept. Just take a step back and know that if you are working for 40 hours a week, and keeping a tiny child alive, you are very busy! It's okay to still feel like you're figuring out how to juggle it all every week. The wonderful and confounding thing about a little person is that their needs and schedule change constantly as they grow. You have to be willing to be flexible and accept a new normal or you won't survive.  
4
Prioritize meal planning
Your day will involve regularly scheduled intervals of feeding the baby, but don't forget that you have to eat, too! Prep lunches and fast breakfasts at the beginning of the week so you can have food already assembled to grab and eat during the day. Breakfast burritos, wraps, toppings for salads, yogurt, nuts, and fruit are all good to have on hand and ready to go.  
5
Try flex times if your job allows
If you can wake up early and get work done outside of "regular" hours, or put in some time in the evening when perhaps a friend or family member is off work and can help you while you work, take advantage of that. 
6
Accept help
If someone offers to help you in any way, say yes. And if no one is offering to help, ask. Allowing other people to help you is an act of vulnerability — which is good for you to grow and stretch, and it gives someone else a good way to grow in generosity. If someone says "How can I help?" or you ask someone to help you, one way to make it work well is to offer them some choices. For example, they could clean your kitchen, bring you a meal, sit with the baby for a bit while you work, walk the dog, or pick up your groceries. When they pick what chore or errand is best suited for them, everyone wins. 
7
Turn to the heavenly experts
And finally, when you need an extra shot of grace, ask for the intercession of working saint moms like St. Gianna Beretta Molla or St. Zelie Martin! They were working moms and they get it!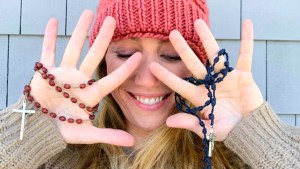 Read more:
The working mom who leads hundreds of people in the Rosary on Instagram every morning