The Neumz app compiles every Catholic chant of the 3-year liturgical calender.
A community of Benedictine nuns from France are using their God-given talents to spread their love of Gregorian chant. Since 2019, they have been recording every plainchant of the liturgical calendar and making them accessible on a brand new app, Neumz. More than just a music streaming service, Neumz offers invaluable educational elements to learn the holy chants and gain a deeper understanding of the Mass.
It's no small order to record every chant in the Catholic songbook, as the liturgical calendar rotates on a three-year cycle. This means that the Neumz project, started in 2019, will not be complete until 2022. When finished, they expect to have over 7,000 hours of Gregorian chant, which would make theirs the largest collection of sacred chant.
In a press release, the sisters wrote:
"Unified by their place and function in the Church calendar, and offered in their entirety, we are able to present the liturgical cycle as if it were a single musical work. Sung in this way for over a millennium, it is the greatest love song ever recorded."
The recordings are all taken from the Abbey of Jouques, in France. There, engineers from ODRADEK Records have installed unobtrusive equipment to capture the songs of the nuns at prayer. These recordings are edited and distributed through the Neumz app, where listeners can browse on demand at no cost. While the app is free, they do offer additional content for premium members, with two-thirds of proceeds going to the sisters.
Listen and learn
Neumz is an essential companion for lovers of sacred music, but it is also a great resource for aspiring liturgical singers. The app provides the musical notation for each chant and the Latin lyrics provided underneath, allowing the listener to follow along and sing for themselves.
The Neumz app will also help connect users with the daily Catholic calendar. Each day offers a fresh chant of the daily Mass, as well as the Divine Office. On their website, they make a special effort to instruct on the structure of the Mass. This in turn helps users to know exactly what they're listening to and how it relates to their prayer.
Neumz is the first and only complete recording and the first complete digital resource for liturgical materials. The contents of the Psalter, Lectionary, Collectary, Antiphonary, Responsoriary, and Gradual are assembled into a 21st-century multimedia "Liber Digitalis." With over 2,000 hours of liturgical recordings already uploaded, there is plenty of music to get listeners started.
See how it works in the video below, then learn more about and download the Neumz App here.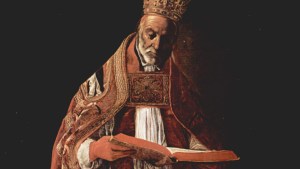 Read more:
How Gregorian chant was born and why it's called Gregorian