In his role as "pontiff," Pope Francis can make a big impact in country shattered by years of war.
What can God do in your life with one Bible verse a day?
Subscribe to Aleteia's new service and bring Scripture into your morning:
Just one verse each day.
Click to bring God's word to your inbox
As Pope Francis travels this weekend to Iraq, a country so fractured from decades of war and ongoing social ills, a title traditionally given to the pope will take on much meaning. That title is "pontiff," meaning bridge-builder.
"Iraq is trying to turn a page after the horrific experience with ISIS," Davide Bernocchi, Catholic Relief Services' country representative in Iraq, said in an interview this past week. The Islamic State group, which tried to establish an Islamic caliphate in territories it conquered in both Iraq and Syria, he said, "deeply upset the balance between the different ethnic and religious communities that are part of the mosaic which is this country."
Francis' visit, scheduled for March 5-8, "comes with this powerful message of human fraternity, which is really the way forward in this country," Bernocchi said. "I think we see that people, communities, etc. have this tendency to isolate to survive in times of stress and crisis. The message of the pope is basically that walls are getting us nowhere. We need bridges in order to build the society together, in order to build a shared future together."
Francis is expected to begin his visit by flying to the country's capital, Baghdad, on Friday. He is scheduled to meet with Iraqi Prime Minister Mustafa Al-Kadhimi and President Barham Salih. The pope will give a speech to a gathering of civil authorities at the presidential palace, before moving on to the Syriac Catholic Cathedral of Our Lady of Salvation, the site of a 2010 suicide attack during Sunday Mass in which more than 50 people were killed. 
On Saturday, March 6, Pope Francis will fly to Najaf to meet with Ali al-Sistani, an influential leader of Shiite Muslims in Iraq. He then will travel to Ur in southern Iraq, the birthplace of Abraham, to address an interreligious gathering.
Back in Baghdad at the end of the day, the pope will celebrate Mass at the Chaldean Catholic Cathedral of St. Joseph, along with Chaldean Patriarch Louis Raphaël Sako.
Sunday, March 7, will see the pope in northern Iraq, beginning with a visit to Mosul. He will pray for the victims of war, including the victims of ISIS, at Hosh al-Bieaa square. Flying by helicopter to Bakhdida, also known as Qaraqosh, Pope Francis will pray the Angelus at the Syriac Catholic Immaculate Conception Cathedral.
In the evening, Francis will offer Mass at the Franso Hariri International Stadium in Erbil. He will fly back to Rome on Monday morning. 
Building social cohesion
In some of the places Francis visits, he might just see the fruit of the work Bernocchi and Catholic Relief Services has been undertaking. While CRS is providing material assistance to those who had been displaced in the ISIS invasion and those trying to return to their homes on the Nineveh Plain, and cities like Erbil, Dohuk, Kirkuk, Anbar, and Fallujah, a lot of the work has to do with building the social cohesion that had been damaged.
"On one side you have the material needs, on the other, people need help to rebuild trust, fix the social fabric that was torn apart by ISIS," Bernocchi said. "We are helping this process by putting together, with the support of religious leaders, youth groups from different communities, faith communities. They're able to discuss their problems, find a shared solution — something that contributes to the common good. We're also helping them with the means they need to relaunch small businesses and entrepreneurial activities."
CRS is one agency implementing a five-year project called Shared Future, working with disparate communities in towns on the Nineveh Plain, as some residents return and try to get their lives back to normal. In addition to rebuilding materially, different ethnic and religious communities have to learn once again to live alongside their neighbors, putting aside the fear and prejudice that grew over the last few years. The project is funded by the United States Agency for International Development (USAID). 
"For social cohesion we work with a diverse tribal, religious and ethnic pool. Our objective is to create mutual understanding and trust," CRS's Hasan Amer said in an interview. The project follows a CRS model of "binding, bonding and bridging." It progresses from an initial examination of how individuals perceive the conflict and are affected by the conflict, to meetings of youth and their community and religious leaders to identifying core principles and common goals, and ultimately to bringing the different religious and ethnic communities together for projects serving community needs. 
Church unity
For Christians, in spite of denominational differences between the various Catholic and Orthodox Churches, there are natural bridges, in the view of Archimandrite Emanuel Youkhana, a member of the Assyrian Church of the East and executive director of the Christian Aid Program of Northern Iraq. "In Iraq, we lack an ecumenical structure or platform to bring all the Churches together," Fr. Youkhana said in an interview from Dohuk. "But in daily life, in practice, we are one Church, one community."
No doubt the common struggle against oppressive forces, such as ISIS, has brought Christians together. It has also strengthened many Christians in their faith. Sermed Ashkouri, a Chaldean Catholic deacon candidate, has noticed that on several trips back to his homeland from Boston, where he settled in 2003. He saw the bloodstains on the wall from the terror attack at Our Lady of Salvation Church, where he was baptized some 44 years ago. But he also saw his community rising from tragedy.
"Every church that was damaged, brought down, burned, there was an activity that same week — Baptism, wedding, Mass. The faith never died," said Ashkouri, an engineer. "Their faith got stronger. It was like the phoenix. You can't scare them out of their faith, even with the threat of death."
Indeed, there are walls, Ashkouri said — literal walls. "You go to any church in Iraq, they're surrounded by barbed wires and 12 feet of concrete wall," he said. "Before the war, there was nothing like that. You didn't have to go through a checkpoint to go to church."
But in spite of that, people are still going every Sunday and celebrating first Communions and weddings and such. "They're more hungry for Jesus, for God, to have Sunday Mass, to see other Christians there," he said.
"The Church is still a big part of the life of our people," added Bishop Abris Youkhana of the Assyrian Church of the East's Eparchy of Erbil and Kirkuk. "With the economic difficulties, there are many people who are just thinking about their own lives, how to make money, how to continue life. But they're still participating fully" in the life of the Church.
Pope Francis' visit to Iraq is "important for us as Christians," said Bishop Youkhana, whose Church signed a "Common Christological Declaration" with the Vatican in 1994. "It's a very strong message, I think, not only a message of peace, but a message for us Christians that our brothers are thinking about us, and a person like Pope Francis, who is insisting to come here, even if there are many questions about the trip," such as the danger of COVID-19 infection.
Born in 1978, two years before Iraq's war with Iran, Bishop Youkhana said, "For as long as I can remember, we are in wars. Even today, there are wars that we are living every day here: against corruption, against terrorists. It's difficult for people to remain strong and to give testimony to their faith … So this visit will encourage us to continue our struggle here against the enemies of our faith and our nation."
As CRS's Bernocchi commented, "What his visit will mean for the Christias is that this is their land, that there is a future for them. It will be a way for him to confirm people in their faith, which is what Jesus asked Peter to do."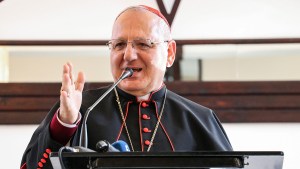 Read more:
Iraqi cardinal issues call to prayer for Pope Francis' visit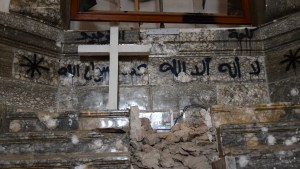 Read more:
Iraqi Muslims are rebuilding ISIS-damaged churches to bring back Christians