Don't wait for the extraordinary moments to be grateful.
Let me tell you about a miracle I experienced, and the profound gratitude it has inspired ever since.
The story begins with my mother's long recovery from a serious auto accident. She was bed-bound for days; her muscles atrophied. During the weeks of physical therapy that followed, she remained wheelchair-bound as she struggled (and mostly failed) to recover her strength and mobility.
One afternoon, I watched a physical therapist roll my mom's wheelchair between a set of parallel bars, lock the wheels, crouch down, and address her: "Mrs. Lowney, I want you to push yourself out of the wheelchair with both hands, and stand up, and grab these bars to support yourself. Okay?"
I had seen this before, and the moment had always ended in failure. I reconciled myself to the discouragement that was coming. Doubt crossed my mother's face. She raised herself a few inches, then dropped back down.
But it was further than she'd gotten in futile attempts over the last two weeks, and her expression shifted from worry to concentration. She gathered herself for a second effort.
And up she went. She stood up out of the chair the way a few billion of us do every day. She stood unsteadily for a few seconds and looked around, taking in the world from a perspective she hadn't enjoyed for more than two months. Then she slumped back down, exhausted. She exhaled with relief and satisfaction, and gave the physical therapist a weak high five.
That, of course, was no miracle. That's what an excellent rehabilitation facility can accomplish when staffed by dedicated physical therapists and supportive caregivers.
Now comes the miracle story.
As my mother's legs strengthened, my own eyes were opened to something incredible. Near my apartment building are six flights of concrete stairs that I had skittered down every day of my commuting life, thinking about work or the weather or a thousand things other than my footfalls.
But during my mother's recovery, I did think about my footsteps. Once or twice, I walked down those same stairs slowly and gratefully, savoring the marvel that I could walk at all. I tried to imagine what intricately coordinated symphony of bone, joint, brain, and muscle was going into each step.
Around that time, a friend with aged, infirm parents brought another marvel to my attention. After helping her infirm father into his socks and shoes one morning, she was struck with wonder by something amazing: from a standing position she was able to bend over, remain balanced, and tie her shoes.
I get it; these are not "miracles" in the strict sense: Science can explain all of them. But the opening of my eyes to all the blessings I enjoy? That was a bit miraculous.
And miraculous or not, my broader point stands: We take so much for granted. So many of us can walk, button our own shirts, stand up unaided after sitting in chairs, read a newspaper, hear birds sing, and notice cloud patterns in the sky. Shouldn't we feel profoundly grateful for these extraordinary blessings, even though they happen daily?
Think of it this way: If you find a convenient parking spot in a packed shopping mall parking lot on a day when you're rushed, I bet you're grateful. But shouldn't you be far more grateful that you are healthy enough to drive a car at all?
Gratitude is core to most religious traditions and spiritual practices. Christians, for example, are exhorted to, "rejoice always, pray without ceasing, give thanks in all circumstances." (I Thess.5: 16-18) And those in the Jewish tradition are encouraged to, "Give thanks to the Lord for he is good, his mercy endures forever." (Ps. 118:29)
As I think of all I have and all I've been given, I'm certain of this much: I haven't been grateful enough. Chances are, neither have you. Don't wait for extraordinary moments to remind you of the manifold, ordinary ways in which you are blessed. Be grateful now, tomorrow, every morning, and every evening.
This piece is adapted from Make Today Matter: Ten Habits for a Better Life and World (Loyola Press); follow Chris Lowney on Twitter or Facebook.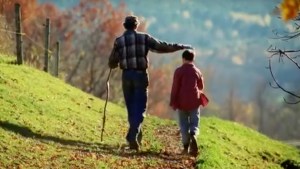 Read more:
This short film on gratitude is a perfect remedy for melancholy