The Psalms are a great resource for anyone suffering from anxiety.
The Psalms make up a unique book of the Bible, as they express the cries of the heart and are the honest prayers of individuals and the community, in joy and sorrow. No matter what its mood, each Psalm can also provide hope, as these songs almost always end trusting in God and his divine plan.
Here are 10 Psalms that are worth reciting that can bring a renewed peace into your soul.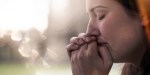 Read more:
Pray this Psalm when you are overwhelmed with anxiety