Perhaps Nicodemus first said this prayer as he took Our Lord down from the Cross.
The Trisagion is a hymn used in Divine Liturgy in most Eastern rites. The hymn is part of the Trisagion Prayers, which are prayed in various liturgies, such as Vespers. The Greek phrase Trisagion translates as "Thrice Holy" — God is described in this hymn as holy three different times.
In the Latin Church the prayer is most known for its use on Good Friday. However, many of the faithful might know it best (or parts of it) because of its use in various devotions, such as the Divine Mercy Chaplet, where it is the concluding prayer.
The prayer is: Sanctus Deus, Sanctus Fortis, Sanctus Immortalis, miserere nobis. The liturgical translation commonly used in English is Holy God, Holy Mighty, Holy Immortal, have mercy on us.
Some traditions consider the prayer to have been voiced by Nicodemus as Jesus was being taken down from the cross.
In the Latin rite, God as thrice holy is proclaimed in the Sanctus, a prayer with various biblical references.
Holy, holy, holy, Lord, God hosts (Is 6:3; Rev 4:8). Heaven and earth are full of your glory. Hosanna in the highest. Blessed is he who comes in the name of the Lord (Mt 21:9; Mk 11:9-10). Hosanna in the highest (Is 6:3).


Read more:
Are there different types of Catholicism?


Pope Francis in Iraq
The Trisagion was beautifully chanted in the Chaldean rite Mass celebrated by Pope Francis in Baghdad, Iraq, during his visit on March 6, 2021. The Mass was celebrated at the Chaldean Cathedral of St. Joseph.
The Chaldean Catholic Church is centered in Iraq, with Cardinal Louis Sako, 72, the current patriarch of Babylon and archbishop of Baghdad.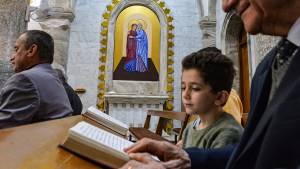 Read more:
5 things to know about the Christians of Iraq
Read more:
Christians in the Middle East: Interview with Patriarch of Chaldean Catholic Church