Scattered across the world, these refugees have high hopes for the pontiff's visit to their homeland.
What can God do in your life with one Bible verse a day?
Subscribe to Aleteia's new service and bring Scripture into your morning:
Just one verse each day.
Click to bring God's word to your inbox
A glimmer of hope, of recognition, an invitation to unity. This is what Iraqi Christian refugees around the world interviewed by I.MEDIA are waiting for. They reveal their wish to see a certain political and economic stability in the country in order to one day be able to set foot on Iraqi soil again.
When he heard the news of the pope's trip to Iraq, Fr. Asmaroo, chaplain of the small Chaldean community in Switzerland, could not hide his deep joy. "We were all surprised, very happy," he says. "Some of us wondered if it was too late and if there was any point in it, but I think that the majority of us see the pope's coming as a sign of hope." To celebrate this historic event, he organized a Mass in Switzerland with some Chaldean families — following COVID restrictions — on March 6.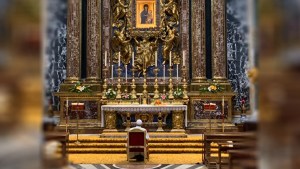 Read more:
Pope entrusts Iraq visit to Our Lady with trip to Roman basilica
After the disappointment caused by the cancellation of the visit of John Paul II in 1999, it must be said that the news was big. "We Eastern Christians sometimes have the impression that we have been forgotten by the West, and sometimes, I dare say, by the head of the Catholic Church. The fact that this visit had not been possible until now was, of course, a disappointment to us. Now the whole country has started preparing for the trip," rejoices the Iraqi priest.
Having settled in France with his wife and two children after he fled the country in 2014 with the arrival of Daesh (ISIS), Toma Kako is just as enthusiastic. "This visit will give hope to the Iraqi people who have suffered so much," says the father of the family, who is very moved to think of the pontiff walking in the land of his childhood. With the Christian community of Sarcelles, where he lives, the little family close to the l'Œuvre d'Orient (Work of the East) intends to follow each of the pontiff's movements with attention.
A peaceful, non-political visit
In Europe and the Middle East, refugees who have fled their countries — whether after 2003 or when ISIS arrived in 2014 — are cautious about the political and security benefits that this trip could bring. "This is a historic visit that is first and foremost in the direction of peace, far from being a strategic or political visit," said Yuap, an Iraqi refugee in Lebanon since 2014. For this young man of barely 24 years old, this trip will first of all breathe "hope into his generation." And for good reason; the Iraqi youth have indeed "lived all their life in war," he stresses with sadness.
Of course, "Pope Francis will encourage Christians in the Middle East and especially Christians in Iraq to stay," Toma Kako imagines. "Christians have suffered too much. They must live their vocation in their country," he said. He believes, however, that the trip will not affect the return of refugees from the four corners of the world. "I am lucky to be in France after suffering in Iraq and I was welcomed with open arms. With my wife, we fitted into France and we found work," he summarizes in the language of Molière. For his part, he does not plan to return and finds it difficult to imagine that some refugees settled in France could make such a decision.
A need for security
"Peace and security" is what Toma and his family need in order to hope one day to return to the land of Abraham. Is the pope able to bring them the stability that Christian refugees dream of, like many Iraqi citizens living in their homeland?
In the heart of Beirut, Jean-Louis, a Lebanese who has been working for 10 years with Iraqi refugees in the Land of the Cedars, has a realistic view: "The pope will give a glimmer of hope, but those who have left will not return because they do not have the political stability to live with dignity."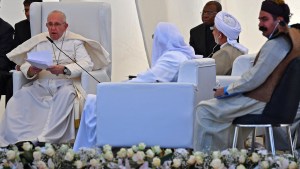 Read more:
Pope calls us to Abraham's hope: Full text of address in Ur
He also highlights the economic gap that exists between Iraq and the countries to which Iraqi refugees have emigrated. "I doubt that this visit will bring economic development," he said. In Lebanon, which sometimes represents a stopover for some, this humanitarian aid worker has seen many families "pass through" to the United States or Australia. Couples with children well settled there will not return because they do not have the same economic environment in Iraq, he says.
The 33rd trip of the bishop of Rome will not push Yuap to leave Lebanon any time soon either, a country where he has found a job, although it is very precarious. "In the near future, there are too many political complications to hope for stability," he said, adding: "I am waiting for the pope to put Christians back on the map of Iraq first.
Long-term returns?
Encouragement, recognition, support … This is what these Iraqis who have been settling into a new landscape, in Europe or elsewhere, for several years now are waiting for first of all. In spite of everything, Fr. Asmaroo is more optimistic than his fellow citizens: "The pope's trip may not change things in the short term but in the long term, I think, and that is our hope." For him, the trip could even "play an important role for a concrete return of certain families" even if he is well aware that it will not be in the near future.
"When I meet Chaldean families in Switzerland, we discuss the memories we left behind and the values of the country. There is a nostalgia. Afterwards, when is this return going to materialize? I don't know. I have in mind the model of Lebanon and the families that left. Some are starting to return in order to have a link with their country of origin. I believe that, concerning Iraq, if the conditions are met, nothing prevents families from returning there, if only for visits at first to recreate a link."
For his part, the Iraqi priest has never really left his native country. since he returns at least once a year to the heart of its rocky landscapes — a breath of fresh air that he does not want to give up. "It is not the pope's visit that will motivate the Iraqis to return, but rather its consequences, the fruits of this visit," he believes.
A journey for all the Iraqi people
Beyond the situation of Christian refugees, the Swiss priest believes in the strength of the ties that the pope will forge with the various political and religious authorities. "I think that the exchange with Al-Sistani is a great encounter, the first of its kind, because he is a very important personality in Iraq and for the whole of the Shiite world. We therefore hope that this meeting will lead to concrete and visible results in the long term. Putting people together is already the beginning of a solution," he says.
For his part, Toma Kako is careful to underline the stakes that this visit represents for the entire Iraqi people, well beyond the Christian sphere: "We must do everything possible to make this visit a success for everyone: Sunnis, Shiites, Christians, everyone," he insists, hoping that every citizen will be able to hear the pope's call for fraternity. Following in the footsteps of Bishop Pascal Gollnisch, director of the Oeuvre d'Orient, he called for this visit to be seen as a gift "for the whole of Iraq."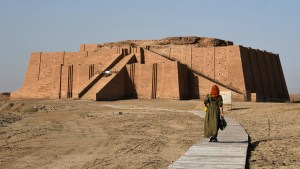 Read more:
Pope's trip to Iraq is like a pilgrimage to a Holy Land